Quiet Warrior: How one off-duty firefighter switched from concertgoer to first responder during Las Vegas shooting
Chris Wetzel, a firefighter with Cal Fire/Riverside County Fire Department, recalls what it was like to be on scene while a gunman opened fire on 22,000 concertgoers on the Las Vegas Strip
---
Sponsored by 5.11 Tactical
By Sarah Calams for FireRescue1 BrandFocus
On Oct. 1, 2017, Jason Aldean was starting to sing his hit song, "When She Says Baby," at the Route 91 Harvest Festival in Las Vegas when an unfamiliar sound started to fill the venue.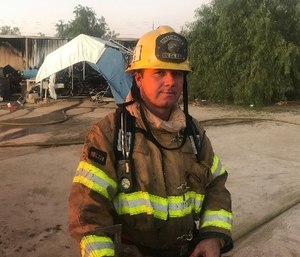 Thousands of concertgoers, including Cal Fire/Riverside County Fire Department firefighter Chris Wetzel, thought the rapid-fire popping sounded like firecrackers. A gunman holed up in a nearby hotel room had begun shooting into the crowd.
Aldean, who was still on stage, suddenly stopped singing and left the stage frantically. The screens behind him went dark. The concert was over, but what was beginning to unfold was something no one, particularly the crowd of 22,000 country music fans, was expecting.
The first round of gunfire, Wetzel recalled, sounded like it was coming from the Las Vegas Strip. Moments later, he looked over and saw a woman lying dead about 10 feet in front of him.
"I looked at her and I knew she was gone," he said. "It was then that I put two and two together. I knew right then and there that there was a shooting."
Wetzel, who was attending the concert with his wife, Amber, and a group of friends, grabbed his wife and ran to hide under a nearby table.
"There were so many people running," he said. "People were getting trampled on."
The venue, which had only one entrance, suddenly had multiple exits as concertgoers ran for their lives.
"My wife and I stayed under the table for a good two to three more volleys of fire, and then it stopped for a decent amount of time," Wetzel said. "I can't really tell you how long – I couldn't tell time while I was there."
The crowd had dispersed, and the people who remained in the venue were taking cover as best they could.
Wetzel soon saw a man lying on the ground in a lot of pain. The man had been shot in the stomach. Wetzel's wife, seeing that her husband wanted to help someone in need, pleaded for him not to leave her.
"I told her I wasn't leaving her," he said. "I was only five feet away from her."
By then, there was a long pause in the gunfire. Wetzel thought it was over. When the gunfire paused, Wetzel, in first responder-mode, went over to help the man lying on the ground with a gunshot wound to the stomach. His wife later got out from under the table and ran next to him.
'I've never been big on crowds' 
Wetzel, 38 and married with two children, began his fire service career in 2001. Initially, he never even thought about becoming a firefighter.
Once he graduated from high school, he joined the Army and went into the reserves. It wasn't until a sergeant in his reserve unit asked him if he was interested in the fire service that he started contemplating it as a career choice.
"I later went into the Forest Service as a wildland firefighter," he said, "and in 2004 I came over to Cal Fire/Riverside County Fire Department. I've been here ever since."
Wetzel, a longtime country music fan, said attending the festival with his wife and a group of friends was a birthday present to himself. Once Wetzel and his friends entered the venue, they worked their way up to the main stage.
"We were always on the left side of the stage, close to the bar area," he said. "That's where the 10 of us met up every night when the concert was going on. I've never been big on crowds, so I don't like to go to the front much."
Sometimes, however, Wetzel said his friends would inch up closer if there was a performer they liked on stage. That night, his friends Brian and Hannah Ahlers went up close to the stage on the right-hand side.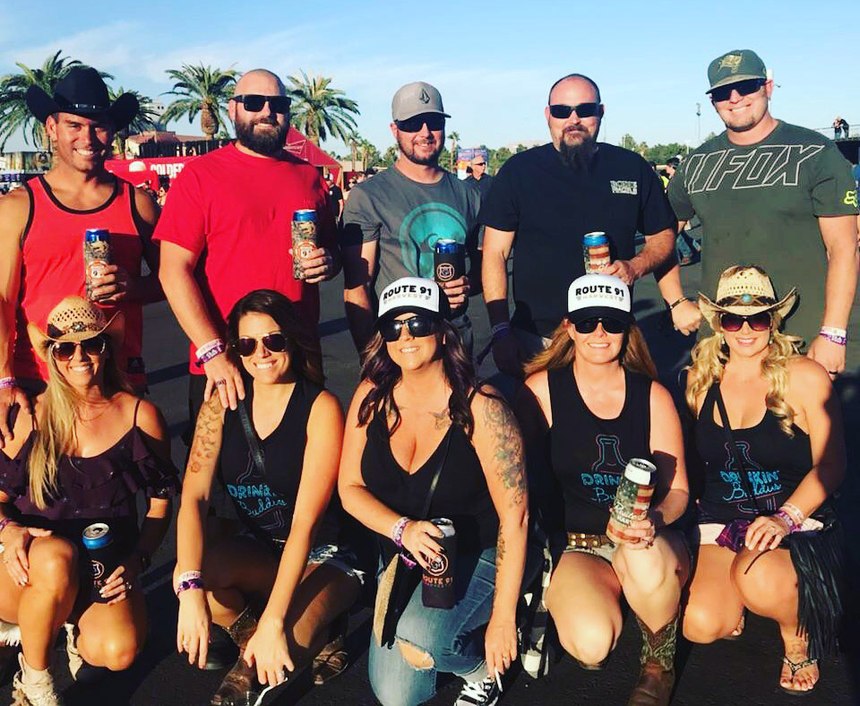 'I thought I was going to die'
But as soon as his wife was by his side, gunfire erupted again – some of it very close to where they were huddled. "I felt the bullets near me," he said. "They were hitting the asphalt."
His wife got up and ran over to a light pole with a wheelbarrow near it. She hid behind the wheelbarrow as bullets whizzed by.
It was then that Wetzel felt a pain in his stomach.
But he didn't that let stop his main task at hand – saving the man who was already injured and lying on the ground.
"We all got on top of him. It was then, the only time really during the whole ordeal, that I thought I was going to die," he said. "I accepted it, covered my head and hoped it was at least quick."
Later on, Wetzel found out that a bullet had ricocheted off his stomach.
"It didn't do a lot of damage, but it also didn't feel good," he said.
Fortunately, the hail of gunfire started to move away from Wetzel.
"I got up off of the guy, and there were two gentlemen and a woman who went to help him. I went over to my wife to hide behind the wheelbarrow and waited until the shooting stopped again," he said. "I grabbed her hand and I said, 'Let's go. We've gotta run.'"
As soon as they got outside of the venue, Wetzel's wife noticed a man who had been shot and whose back was bleeding. His name was Zack Mesker.
Wetzel was putting Mesker's arm around his shoulder when gunfire started to erupt yet again.
"That's when my wife and I got separated. She took off," Wetzel said. "She later told me that one of us had to go home to the kids."
At that point, it was just Wetzel and Mesker, who was pale and sweaty.
Wetzel told him, "It's just me and you buddy. We've gotta do this."
They walked for a quarter of a mile before Wetzel got to an area where he felt comfortable enough to fully assess Mesker – they were no longer out in the open.
"Zack had lost one of his flip-flops along the way, and I said, 'Don't worry about your flip-flops. Let's get you out of here and we'll get you some new ones later,'" he said.
Wetzel made sure to apply pressure to the wound and comforted Mesker as best as he could. The bullet ended up going through Mesker's colon, into his pelvis bone and lodged in his leg.
They got one of the first ambulances that arrived and got Mesker out of there. Right before Mesker left in the ambulance, he asked for Wetzel's name.
"I told him my name," Wetzel said, "and he said he was going to find me."
Six weeks later, Mesker did. The two were reunited at a restaurant, and Wetzel made sure to bring Mesker a new pair of flip-flops.
Losing a friend
The shooting had stopped for about three to four minutes when Wetzel went back to the venue and started triaging.
"I was trying to help out where I could," he said. "When fire and EMS started rolling in, I just called it a day after that."
Wetzel's wife, who had gotten separated earlier, later reunited with a group of their friends. It wasn't until Wetzel was finally able to take a second, breathe and call his wife that he received more bad news – Hannah, one of their friends, had been killed.
Furthermore, after hours of chaos and uncertainty, Wetzel was still unable to reunite with his wife.
"The police had the entire place on lockdown," he said. "We didn't reunite until 3:30 in the morning."
Hannah's husband, Brian, was later able to get in touch with an acquaintance who lived in Las Vegas. That person came and picked up Wetzel and his friends, who stayed at his house until 6 or 7 in the morning, and then they all headed home.
"We packed up and got out of there as quick as we could," Wetzel said. "We got back home around 2:30 or so in the afternoon."
Hannah left behind Brian and three children, ages 3, 11 and 14. Wetzel has known Brian and Hannah for more than 20 years.
"Brian was one of the only guys after high school that I continued to be friends with," he said. "Brian and Hannah were always around."
For Wetzel, remembering Hannah is constant.
"We did a car wash for her that next weekend, and we raised almost $10,000. The GoFundMe page worked out really well, and we just have constant things going for their family," he said. "They're always getting assistance and help out of the kindness of others' hearts."
More aware of his surroundings
The first month after the shooting, Wetzel did not go back to work. It wasn't until Mesker reached out six weeks later that he felt like his purpose was back.
"At the venue, I thought I could help more and I didn't," he said. "In hindsight, I helped who I could."
Mesker, only 22 years old, was in the hospital for a month and underwent five surgeries.
"He's going to have a long road ahead of him," said Wetzel, "but just seeing him smiling instead of in pain like he was that night, it was a really good feeling."
As for Wetzel, the shooting has made him more aware of his surroundings.
"If we get GSW calls, I'm definitely more aware," he said. "Any kind of calls that have to deal with violence, I'm extra cautious about."
Wetzel is also in counseling and suffers from anxiety attacks at night.
"It's getting better, but it's still a struggle," he said. "I know people move on, but for me it seems like just yesterday. It was personal for us after the loss of Hannah."
And because Wetzel was off duty at the time of the shooting, he didn't just have himself to worry about.
"It was overwhelming because it wasn't just me," he said. "My wife was there, my friends were there. I don't care what kind of training you have, when you're facing something like that – something you don't expect, when there are only so many places to hide and get out – it's different."
The shooting was a life-changing experience for Wetzel, as well as thousands of others. For now, he's just trying to get some sense of normalcy back.
"I'm happy to be alive," he said. "I try not to take anything for granted. I'm back at work and trying to be normal again."