Two Conn. firefighters honored for 50 years of volunteer service
The two paused to reflect on what the department used to be, and how things have changed in five decades
---
Michael Walsh
The Hartford Courant
FARMINGTON, Conn. — Don Antigiovanni and Stephen Jones both recently celebrated 50 years of volunteer service with the Farmington Volunteer Fire Department.
Antiogiovanni, who has been the department's chief for the last 23 years, and Jones, who is currently treasurer, are both lifelong Farmington residents who in 1969 joined the department right out of high school - only six months apart from each other.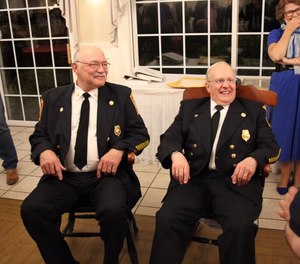 Their relationship dates back farther than that, as the two grew up across the street from each other.
Firefighting runs deep in both of their families, too. Antigiovanni's twin brother, Gary Antigiovanni, served with the department for 40 years. Jones' father was a past member of the department, as well as his brother, Theodore Jones, who served for 26 years with the Farmington department and 20 years with the East Farmington Volunteer Fire Department.
And the pair of 68-year-old men have now passed the tradition on to their sons, who have served and still are serving as firefighters in Farmington and West Hartford.
On the occasion of their 50th anniversary of joining the department, the two have paused to reflect on what the department used to be, and how things have changed in five decades.
"Back then it was more of a social life," Jones said. "On weekends in the summer there were jamborees and parades and marching and competitions. We didn't have a lot of calls back then."
Then, they received around 200 calls a year. And when they got calls, they were actually structure fires. Today, they receive more than 4,000 calls a year, with the vast majority being for incidents other than fires, like medical calls, car accidents, and carbon monoxide calls.
The two have been adaptable to the changes they've seen in their time. Their might be some nostalgic fondness for the way they used to have to ride on the tailboard of a fire engine, compared to the relative comfort of today's enclosed engine. Tools have changed, too, as has the technology they use in their day-to-day operations at the department.
"It's amazing and unbelievable," Antiogiovanni said. "It's been really exciting over the years to see how things have changed and progressed so well. They were all changes that needed to happen to protect the firefighters and the people that we serve."
Farmington's fire department is still to this day predominantly staffed by volunteer members. For Jones and Antiogiovanni, that means their 50 years has had to ride alongside their careers and their families.
Jones, who served in the U.S. Navy, works in manufacturing. Antiogiovanni, who served with the U.S. Army Reserve, worked at Cigna and currently works at Miss Porter's School.
It all means that the last 50 years, when they doubled as firefighters and lived as fathers and husbands, were a juggling act with everything they had going on in their lives.
"You go nights without sleep," Antiogiovanni said. "There are nights where you leave your dinner on the table and you're out the door. Sometimes you end up missing your kid's ballgame. You try not to, but if it's a bad call you'll go. If it's not a bad call, you might stay, because there's always somebody else going to the call."
They made all those sacrifices, they said, because as hard as some calls can be to handle, they are sharing in the experience of helping others with people who have become a second family.
"It's about helping somebody," Jones said. "It comes from the heart. There's a sense of gratification that you get when you go to call where you help people. You put a fire out right away without doing too much damage. If there's a car accident or it's a medical call, you can provide first responder assistance. It's the gratitude."
"Unfortunately, we see a lot of bad things that the average person doesn't see," Antiogiovanni said. "It affects you. Especially in a town where you know pretty much everybody. It does affect you. Younger people bother you more."
The two are still "all in" on the Farmington fire department and have no plans of stopping anytime soon, as they continue to adapt to what's new in firefighting.
"I see us moving forward and staying ahead of today's technology," Antiogiovanni said. "That's the catalyst for all of us to move forward."
———
©2019 The Hartford Courant (Hartford, Conn.)
Distributed by Tribune Content Agency, LLC.
McClatchy-Tribune News Service