NIFC: 2019 fire season off to slow start, but increased fire activity ahead
Former USFS fire director cautions against complacency and underscores need to be prepared
---
By FireRescue1 Staff
It may seem almost inconceivable considering the massive wildfire incidents that ravaged parts of the country in the past two years, but the 2019 fire season is indeed off to a slow start.
This news comes from the National Interagency Fire Center (NIFC), which released initial data for the 2019 wildfire season, showing total U.S. wildfires and acres burned to date well below historic averages.
Bryan Henry, assistant program manager for NIFC Predictive Services, shared in the organization's monthly seasonal outlook video that, nationally, the number of acres burned thus far is roughly one-fifth the national average year to date, with about half the number of fire incidents overall.

Henry noted that some areas of the Western United States are experiencing a delayed entry into the fire season, in part due to generally wetter and cooler weather conditions. However, the grasses across the landscape are going to dry out, he said, and fire activity will pick up, particularly in areas with a robust grass crop like California, the Great Basin, the Pacific Northwest and parts of the Northern Rockies. In July and August, when the fire seasons hits its traditional peaks, Henry expects the most intense activity to be across California as well as the Pacific Northwest and possibly the Northern Rockies and Idaho panhandle.
Related to the slow start to the fire season, Tom Harbour, the recently retired national fire director of the U.S. Forest Service, cautioned against complacency: "As a veteran of 50 wildland fire seasons, we know a slow beginning can mean a fast ending! Wildland fire seasons vary in location, duration and intensity, so it's vital to be prepared for what may be around the corner."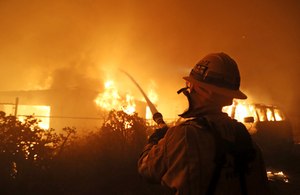 FireRescue1.com recently asked readers, "Has your department prepared for an increased risk of wildfires?" One-quarter of respondents answered, "No, but it should be an issue here."
Harbour underscored that everyone must be prepared: "No one firefighter is responsible for all the fires, but we, as a fire service, are responsible for our fires. That responsibility entails response, and response means risk. We do one another a service when we are prepared and ready. No one wants to be the weak link in the chain. The weak link means danger, not only for the firefighter but the crew and everyone around the unprepared firefighter as well. We never know when, or where, or how the next wildfire will ignite, we simply know that it is our civic and professional responsibility to be ready." 
As we move into wildfire season, use the following resources to brush up on wildland incident response efforts and lessons learned:
Watch the NIFC Predictive Services seasonal outlook video below.