How to become an Air Force firefighter
Similar to becoming a civilian firefighter, there are qualifications you must meet to become an Air Force firefighter
---
There's more to the Air Force than just flying airplanes — career options are endless. You can aim high by becoming an Air Force firefighter.
Fire Protection specialists, according to the U.S. Air Force, deal with everything from brush fires to burning rocket fuel to hazardous material fires.
More specifically, Air Force firefighters are required to: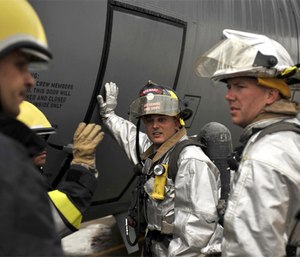 Establish public relations.
Conduct fire prevention awareness and educational training.
Protect people, property and the environment from fires.
Manage and operate fire alarm communication centers.
Operate specialized equipment to help control fire outbreak.
In addition to responding on Air Force bases, specialists assist civilian fire departments when needed.
Similar to becoming a firefighter at your local department, there are qualifications you must meet to become an Air Force firefighter.
Qualifications
In order to qualify, you must:
Minimum education: Hold a high school diploma or GED.
ASVAB requirements: General.
Have prior knowledge of fire department mission and organization.
You must not have a fear of fire, heights and confined places. 
Valid driver's license.
Normal color vision.
Completion of a current national and local agency check and credit.
Completion of 7.5 weeks of basic military training, as well as Airmen's Week.
Must be between the ages of 17 and 39.
Training to become an Air Force firefighter comes with many certifications
Upon graduation from the military fire training at Goodfellow Air Force Base, every student will achieve these nationally recognized certifications:
Firefighter I and II
Hazmat awareness
Hazmat operations
Airport firefighter
Advanced courses offer:
Rescue tech
Crash fire rescue
Fire Officer I, Fire Inspector I, Fire Instructor I
And within the first year after the academy, Air Force firefighters are also required to be certified driver/operators for pumper, mobile water supply and ARFF apparatus.
When you're ready to make your transition into civilian life, the process for military firefighters to become certified and hired at a local department is getting easier. However, certifications aren't transferrable everywhere.
Translation of skills
"Operation Dispatch" was deployed in Florida, which applies credit to the training firefighters received during their military service. It also provides funding to help pay for a percentage of a firefighting certification's cost.
In other states, such as Illinois, veterans can obtain certifications based on prior military experience. They must, however, be employed by an Illinois fire department, provide proof of prior experience and pass the written and practical exams.
Overall, most states require veterans with military firefighting certifications to apply to the state's training academy or request an equivalency consideration to a training certification board.
Every fire department has specific requirements. And even if equivalency requirements are met, you may still have to undergo additional training. Don't let this deter you from transitioning into a civilian firefighter. Your service is valued and highly regarded.
This article, originally published Feb. 22, 2017, has been updated.