6 questions to ask before you buy used fire apparatus
Acquiring experienced fire trucks and apparatus can be the right financial move for your department, but make sure you find the right dealer
---
Your department has evaluated its options for replacing a piece of its fire apparatus and decided that financially, it's in a better position to purchase experienced (i.e., previously owned fire apparatus).
For this piece, I spoke with James Wessel, president and owner of Brindlee (Ala.) Mountain Fire Apparatus, about what to consider while seeking a dealer and moving forward in the process to acquire your next fire truck or piece of apparatus. Wessel launched his business in 2001 and since that time, BMFA has sold over 2,000 fire trucks to departments in 49 states as well as a handful of foreign countries.
When looking for the right used fire apparatus dealer for your department, Wessel recommended several key points to consider: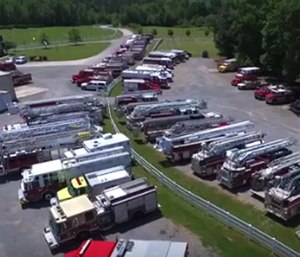 How long has the dealer been in the business of selling used fire apparatus?
What kinds of services can they provide? Many dealers offer vehicle-locator services to help fire departments find the right fire apparatus for their needs and their budget. They can also provide services such as body work, painting and repairs to motors or pumps.
Can they provide a list of previous purchasers of their fire apparatus for your department to contact?
What kind of warranty do they provide for the fire apparatus they sell?
"We provide a warranty for every piece of fire apparatus we sell," Wessel said. "Purchasing used fire apparatus can still be an expensive proposition, especially for volunteer fire departments, so the last thing a department needs is an expensive repair bill for a truck they just bought."
One of the keys to success in purchasing the right used fire apparatus for your department is learning as much as you can about the condition of the apparatus before you purchase it. Prepare yourself, and everyone involved in the decision-making process (e.g., an apparatus purchasing committee), before you make the trip for an in-person evaluation of the truck.
Wessel recommended asking the dealer the following preparatory questions:
1. Can we drive and operate the apparatus we're considering for purchase?
Plan to have one of your department's driver-operators available for the site visit so you can put the apparatus through its paces. "We have plenty of roads available for our customers to drive apparatus they're considering buying," Wessel said. "We also have fire hydrants and static water sources available so our customers can operate the pump from both pressurized and static water sources."
Note of caution: Be sure that the used fire apparatus is properly insured by the dealer before you take it out for a test drive, or operate the pump or aerial device. Don't just take the dealer's word for it: Ask to see the actual insurance policy.
2. Can we have a third-party inspection of the apparatus before we purchase?
According to Wessel, BMFA strongly encourages its customers to have a piece of apparatus under consideration thoroughly inspected, either by a knowledgeable member of the department or a third party.
3. Does the fire apparatus have a current certification test for its pump (pumping apparatus), aerial device (aerial apparatus) or both (for quints)?
"A fire department should require that certification test prior to the purchase and make sure that it's part of the final purchasing agreement," Wessel said. "We provide pump certification testing or aerial device testing for all the apparatus we sell."
4. Can we have the fire apparatus customized prior to delivery?
"Some of our customers will chose to take the truck as is, even though it might need some repair work," Wessel said. "They have someone in the department or in their community that can repair body work or work on the engine."
He went on to say that other departments want to have other work (e.g., repainting, LED light installation), or have the motor overhauled prior to delivery. "In that situation, the fire department should approach the purchase more like that for purchasing new fire apparatus," Wessel said. "They should know what work they want to have done so that the dealer can work with them to see what their options are."
Fire departments should be wary of overestimating their capabilities to take a piece of fire apparatus as is with the goal of saving money by making repairs on their own. According to Wessel, fire apparatus is more than just a heavy-duty truck equipped with a pump, water and hose.
Used fire apparatus on the market today are complex pieces of equipment that merge mechanical components (motors, pumps and braking systems) with technology (on-board computers and integration of the various systems on the apparatus). How many of us feel comfortable getting under the hood of our personal vehicle today?
Many used fire apparatus dealers today have trained technicians and mechanics in their employ who have the experience and expertise in working on used fire apparatus. Fire departments may find that it's to their benefit financially to have any necessary work performed on the apparatus they're considering for purchase by the dealer – especially when they consider that those additional costs can be included in the total purchase price that they will be financing.
5. What's included in the purchase price?
Make sure that all agreed-upon work and testing is included in the final purchase price.
6. What kind of financing is available for the purchase?
Just like when buying a personal automobile, there are a variety of purchasing plans available to finance your department's purchase of used fire apparatus. Ask the dealer what options are available from them and have them thoroughly explained before making a decision.
You and your department may have spent a great deal of time figuring out which piece of used fire apparatus will best fit your operational needs and financial constraints. Be sure to conduct your due diligence when it comes time to finance your used apparatus purchase. First Bankers, a leading financier of both new and used fire apparatus, has an array of free online tools that can assist your fire department in conducting that due diligence.