FDNY firefighter/EMT creates apps to help save lives
An engineer-turned-firefighter, Phil Scarfi has made it his mission to use his computer science degree for the greater good of first responders
---
When Phil Scarfi became a member of the FDNY almost three years ago, he made it his mission to use his computer science degree for the greater good of first responders.
Receive a callout in Brooklyn, but unsure where the nearest hospital is that will accept your patient's chief complaint? Scarfi's got an app for that.
Need a 360-degree, 3D aerial view of a building while en route to a fire? Or, what about an app that allows responders to search for hydrants, fire boxes and addresses? He's got all that covered, too.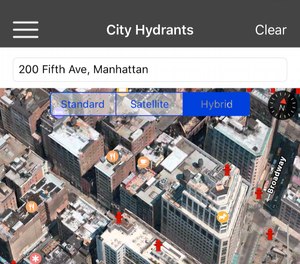 Scarfi's mobile app creations not only help increase responders' efficiency while in the field, but also save lives when every second counts.
Combining the best of both worlds
Scarfi, who lives on Long Island, first joined the FDNY as an EMT. He was just recently promoted to firefighter and is stationed in Jamaica, a neighborhood in Queens.
Before becoming a firefighter, he received his computer science degree from the University of Massachusetts.
"Everyone thought I was going to go to school, get a job as a computer scientist or programmer for some company," he said. "But, at the end of the day, I became a firefighter who gets to do developing on the side."
Scarfi, who was raised around the fire service thanks to his FDNY firefighter father, says he has the best of both worlds.
"I've been fortunate enough to be able to combine both worlds without having to pick or choose one over the other," he said. "The majority of the apps I have created have come from problems I see that exist and trying to solve them."
Because Scarfi doesn't live in the city, it took time for him to get familiar with his surroundings. After all, there are over 60 different hospitals throughout the five boroughs of New York City.
"The way it works in the city is that you can get dragged anywhere," he explained. "My station might be in Queens, but I could end up in the Bronx, Manhattan or Brooklyn. If I got pulled into an area that I was unfamiliar with, I would be taking up a lot of precious time to figure out where the nearest hospital is, how to get there and if they even accept my patient."
To solve this problem, Scarfi created the Mobile MDT app.
Using technology in the emergency setting
The app, which is used by hundreds of EMTs and paramedics in New York City's 911 system, allows users to browse, filter and sort through NYC-area hospitals based on different criteria.
"When you open the app, it automatically shows you all the different categories for different types of patients and the nearest hospitals to your location," he explained. "All you have to do is open the app and it will tell you where you need to go."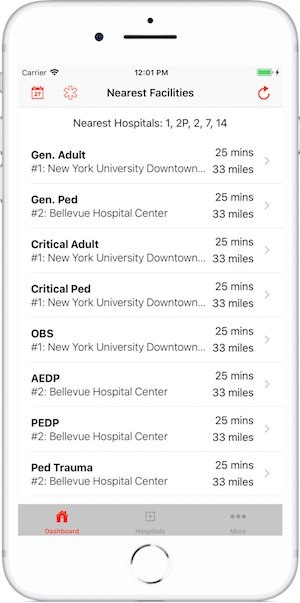 There are other resources in the app, including useful phone numbers for contacting dispatchers and police precinct, firehouse and EMS locations – all with the tap of a finger.
To date, the $7.99 app has over 1,000 users in New York City and is available in the Apple app store and Google Play store.
"It's very satisfying seeing that the problem that I thought was just my problem is also other people's problems and something like this was able to solve it," Scarfi said. "At the end of the day, it's saving time and lives."
Scarfi said feedback about the Mobile MDT app has been overwhelmingly positive. And, when he has received negative comments, it allows him to make the app even better for first responders.
"Those negative things are actually positive, because it's usually features people would like to see in the app," he said. "If they ask, I usually can turn it around within a week to get a certain feature out there."
With constant feedback, the app is shaping and growing into what responders need most. And, in turn, responders are becoming part of the product and overall mission of the app.
In addition to Mobile MDT, Scarfi also released Rapid SizeUp – a suite of mobile apps used by firefighters and EMS personnel to increase safety and awareness while en route and on scene. FDNY personnel and Suffolk County volunteer fire departments are currently using the software.
"One of the apps provides a 360-degree, 3D aerial view of buildings," he said. "So, if firefighters are two miles away from a building fire, they can put in the address and figure out the configuration of the building before arriving on scene."
Other apps in the Rapid SizeUp bundle, which includes Mobile MDT, help responders search for hydrants, fire boxes and addresses.
"What they all have in common is that they're looking to cut down time when seconds count," he said.
Expanding beyond New York City
Currently, only New York-area responders utilize Scarfi's apps. However, Scarfi is in the process of expanding the Mobile MDT app to all major U.S. cities as well as any other agencies that express interest in the app.
"When I first got hired, I was surprised to see how antiquated some of the technology is versus what's actually out there for fire and EMS departments," he said. "I want to help get this technology out there and show how much of a positive effect it has."
Logistics-wise, expanding the app to other major cities is a breeze.
"The only thing that's really needed to expand to these other cities is the information, including the hospital locations and the type of patients they accept," he said. "The information just needs to be plugged into the app and then it can be used in any city."
Long-term, Scarfi hopes to partner with city organizations that might be interested in sponsoring the app. "That way, people that are using the app, which are members of fire and EMS departments, don't have to worry about paying extra money for a resource that they should already have but don't."
And, with more mobile apps in the works, Scarfi hopes to continue helping increase the safety and efficiency of first responders all throughout the world.
"There are always going to be new problems that arise," he said. "But if I can make someone else's life even a little easier – they don't even have to use the app every day – but that one time they need it, they'll know where to go to get the information they need that could help save someone's life."