4 current, former Nev. FFs under investigation in overdose death
Court documents revealed the North Las Vegas firefighters participated in "narcotics trafficking activities" that led to the death of one of the firefighter's spouses
---
By Rachel Engel
NORTH LAS VEGAS, Nev. — Four current and former members of the North Las Vegas Fire Department are under investigation for the overdose death of one of their spouses.  
Former NLVFD Firefighter Christopher Candito, 33, was arrested in July in the February 2020 death of his wife, Tiffany Slatsky, 8 News Now reported. According to court documents, Candito made the 23-mile trip from the couple's apartment to the NLVFD station while his wife was actively experiencing overdose symptoms, retrieved a dose of Narcan and brought it to her.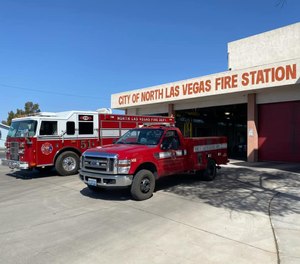 A friend of Slatsky's later called 911 to report the 25-year-old was "unconscious and not breathing." She later died at the hospital.  
According to court documents, Candito, Slatsky and Firefighter Andrew Clapper attended a party at a hotel-casino on Feb. 21, 2020, hosted by Firefighter Andrew Stocker. The documents claim that "Candito worked, socialized, possessed and conspired with fellow firefighter Andrew Clapper to conduct narcotics trafficking activities that ultimately led to the overdose death of his wife." 
Text messages obtained from the firefighters' cell phones reveal numerous exchanges about the use and sale of controlled substances, such as oxycodone, oxycontin, an anabolic steroid (Trenbelone) and morphine capsules.  
A text message from Candito before the party read, "I'm probably going to end up getting transported by the morning." 
Former NLVFD Capt. Nicholas Robison was also involved in the transactions, according to a DEA agent familiar with the case. 
Candito was indicted by a grand jury on charges of murder and burglary.  
Candito, Clapper and Robison are no longer members of the department, according to a spokesperson for the NLVFD told 8 News Now. Stocker is on administrative leave.