Man charged with murder of NY volunteer firefighter
Investigators have interviewed over 250 persons and followed hundreds of potential leads
---
By FireRescue1 Staff
CRAWFORD, N.Y. — Nearly a year after the fatal stabbing of firefighter Justin Speights, police have charged a man with his murder. 
Justin Speights was stabbed to death while trying to break up a fight between guests at a New Year's party Jan. 1. He was stabbed multiple times in the torso and died of his injuries at the hospital.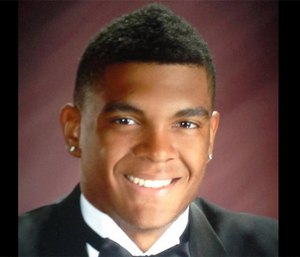 College student Jauntae Brown, 20, was charged with second-degree murder and criminal possession of a weapon Thursday, reported the Record Online. 
Brown was arraigned in court an hour after the arrest was announced; he has pleaded not guilty on all charges. 
"During the nearly year-long investigation, the State Police followed hundreds of potential leads, interviewed more than 250 persons, secured and forensically examined evidence an executed search warrants in both New York and New Jersey," officials said during a Friday press conference.
Speights served as firefighter for four years at the Silver Lake Fire District. Former colleagues and firefighters from surrounding departments showed up in support of Speights during the press conference. Speights was promoted posthumously to lieutenant. 
"It's a step in the right direction to bring justice for Justin," Silver Lake (N.Y.) Fire District official Jeff Jaques said. "We always remained confident. [Police] kept us informed. We're happy the person is off the streets."
Police arrested Brown soon after arresting Rasso Chambers, 20, who was charged with tampering with evidence after allegedly deleting data from his phone after the stabbing. Robert Lemmount, 21, was arrested on similar charges in late September. 
Chambers and Lemmount will appear in court in January 2017. 
Brown is scheduled to appear in court next Wednesday and Jan. 2, 2017. He was booked in county jail without bail.