Officials: Asbestos confirmed in deadly Honolulu high-rise fire
The Honolulu Fire Department is ensuring that any and all firefighters' gear that may have been exposed to the hazardous material is safe
---
Leila Fujimori
The Honolulu Star-Advertiser
HONOLULU — The Honolulu Fire Department announced Thursday that it received confirmation that the Marco Polo building contained asbestos at the time of the fatal July 14 fire, and it is taking additional precautions to ensure that any and all firefighters' gear that may have been exposed to the hazardous material is safe.
The Department of Health confirmed this week that the 36-story condominium building at 2333 Kapiolani Blvd. contained asbestos when more than 120 firefighters responded to the seven-alarm fire that killed three residents and damaged more than 80 units, including 30 that were destroyed.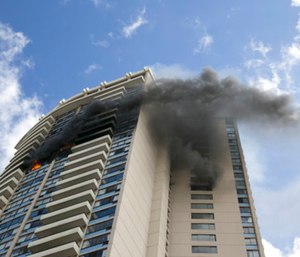 The department, "in an abundance of caution," is taking additional steps to ensure all personal protective equipment (PPE) that may have been exposed to asbestos is properly bagged and cleaned, HFD spokesman Capt. David Jenkins said.
A firefighters union president has criticized the department in its response to the fatal fire for failing to direct firefighters to bag and clean all personal protective equipment.
Jenkins said that in any fire, after the fire is put out, firefighters are trained to go through "gross decontamination" at the scene, meaning to wash down, then bag the protective gear and clean the equipment in HFD industrial extractors.
Jenkins said not all fire personnel at a structure fire would have to decontaminate and bag their gear, depending on their assignments. For instance, although he was at the scene of the Marco Polo blaze and wore protective equipment, he did not enter the building and was not exposed to the contaminants.
Bobby Lee, president of the Hawaii Fire Fighters Association, said he and association board members have received calls from firefighters who reported "they didn't bag anything at the scene."
"They're only pulling the equipment off the trucks now and having them turn it in in the last few days when it should have been pulled at the scene," Lee said.
He said that should have been done on the day of the fire since some Marco Polo condo owners had written disclosure of asbestos in the building.
Lee also questions whether the extractors are sufficient to take out contaminants like asbestos. "If washed and dried, it (asbestos) can still get airborne," he said.
Jenkins, however, said, "What we know is there was no violation of policies and procedures of bagging PPEs."
He said HFD continues to cooperate with the Health Department and the Hawaii Occupational Safety and Health Division to determine whether there was any significant exposure at the Marco Polo fire.
Copyright 2017 The Honolulu Star-Advertiser