'It's hard to put into words': Chicago firefighters rally around colleague after fire kills son
"Every member of Local 2 and the Department mourns with our brother Walter and the Stewart family," said Local 2 president Jim Tracy
---
By Adriana Pérez, Richard Requena
Chicago Tribune
CHICAGO — Walter Stewart was on duty at the fire station in Norwood Park on Tuesday night when he overheard his address on the fire radio — flames were ravaging his home with his wife and children inside.
A Chicago Fire Department chief quickly drove Stewart the five miles to the scene in the Montclare neighborhood, where the young firefighter performed CPR on his unconscious wife, said CFD spokesman, Larry Langford.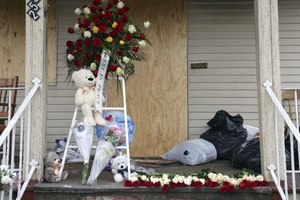 Stewart's 7-year-old son, identified as Ezra Stewart, died Wednesday at 6:25 p.m. at Loyola University Medical Center in Maywood, according to the Cook County medical examiner's office. His mother, 34, and two siblings, a 2-year-old girl, a 7-year-old girl, were last listed in critical condition.
On Thursday morning, the first floor windows of the single-family home in the 2500 block of North Rutherford Avenue were boarded up, with glass shattered everywhere and toys scattered around the house. A memorial of teddy bears, a balloon, bouquets and a flower wreath rested on the front porch, alongside personal belongings stuffed in bags, two strollers and a kids' car seat.
A neighbor stopped by to adorn the growing memorial on the porch with flowers. Hector, who only wished to give his first name, told the Tribune that the family had been living in the house for two years. "They were good people," he said, fighting back tears. "It (expletive) sucks." The family, he said, would put out cat food for the stray cats that roamed the neighborhood.
Hector said he bought more fire detectors for his own family after the fire.
"God forbid this happen to my family," he said.
According to the Office of Fire Investigation, the accidental fire began in the kitchen. Chicago police and firefighters responded shortly after 9 p.m. Tuesday. The mother and children were found unconscious having suffered smoke inhalation and were taken to Stroger Hospital and Loyola University Medical Center, officials said. Area 5 detectives are investigating.
On a day when Chicago police gathered on the city's Southwest Side for the funeral of one of their own — slain CPD Officer Andrés Mauricio Vásquez Lasso — the city's firefighters across Chicago also rallied to show support for their colleague. Ignite the Spirit, a Chicago Fire Department charity, started a fundraiser to help the firefighter's family face an "unspeakable tragedy," according to a Facebook post, and firefighters across the country posted thoughts and prayers across social media.
"Every member of Local 2 and the Department mourns with our brother Walter and the Stewart family. This tragedy weighs heavy on our hearts, and we pledge our ongoing support," said Chicago Firefighters Union Local 2 president Jim Tracy in a statement.
The union shared the fundraiser over email, encouraging supporters to donate.
"To be at the firehouse when your address comes over through the alarm terminal? I can't even imagine," said Patrick Quane, director of public relations at the union. "I just can't imagine. It's hard to put into words."
Visitors stopped by the house all day Thursday to add to the memorial or reflect in moments of silence. Around noon on Thursday, a firefighter from CFD Engine 7 stopped by the house to pay his respects even though he said he didn't know the family well.
Maria Nuñez walked from her house across the block to visit the memorial. She said her daughter went to school with Ezra. She told the Tribune in Spanish how sad she was to see a family with such a "responsible and hardworking" father suffer this tragedy. "They were good neighbors, we would say hi to each other," Nuñez said.
Ald. Gilbert Villegas, 36th, said he met the firefighter's wife during the summer while door-knocking to circulate a petition. He recalled her trying to juggle her 2-year-old child while he talked to her about politics. Villegas, who has two kids, ages 19 and 15, said he has been reflecting on the sadness of such a tragedy affecting such a young child.
Villegas asked the Illinois Firefighter's Association for 10-year battery smoke detectors, and said his office was able to distribute 10 — all he had access to — in the 37-home block.
Villegas said his community is holding out hope for the rest of the family to get better.
By Thursday evening, the wind had scattered the memorial, toppling stuffed bears and the wreath. When a man, woman and their young child came to leave a bouquet with yellow sunflowers at the house, the man lifted the wreath back into place.
He stopped as he stepped down the porch and walked away, looking hard at the home's boarded windows before leaving.
Chicago Tribune's Jake Sheridan contributed.
©2023 Chicago Tribune.
Visit chicagotribune.com.
Distributed by Tribune Content Agency, LLC.
McClatchy-Tribune News Service