How much does a firefighter make?
Firefighter salaries and benefits vary by location and rank.
---
Watch the four-part video series about how to become a firefighter, explaining what you can expect from a career in the fire service as you navigate the path and complete the critical steps along the way.
Becoming a firefighter means making a decision to enter a highly adventurous, and potentially dangerous industry. This profession is admirable. It involves a high level of commitment and dedication to your community. 
How much do firefighters get paid?
According to the Bureau of Labor Statistics, the average firefighter makes about $50,850 annually or $24.45 per hour. 
However, this figure can range greatly depending upon location, and it is important to remember that the lowest 10% of firefighters earned less than $25,240 while the highest 10 percent earned more than $111,550. 
According to the BLS data, seven of the top 10 highest-paying metropolitan areas are in California, with salaries ranging from $80,470 to $111,550, with additional high-paying metropolitan spanning areas in Washington, Oregon, New York and New Jersey.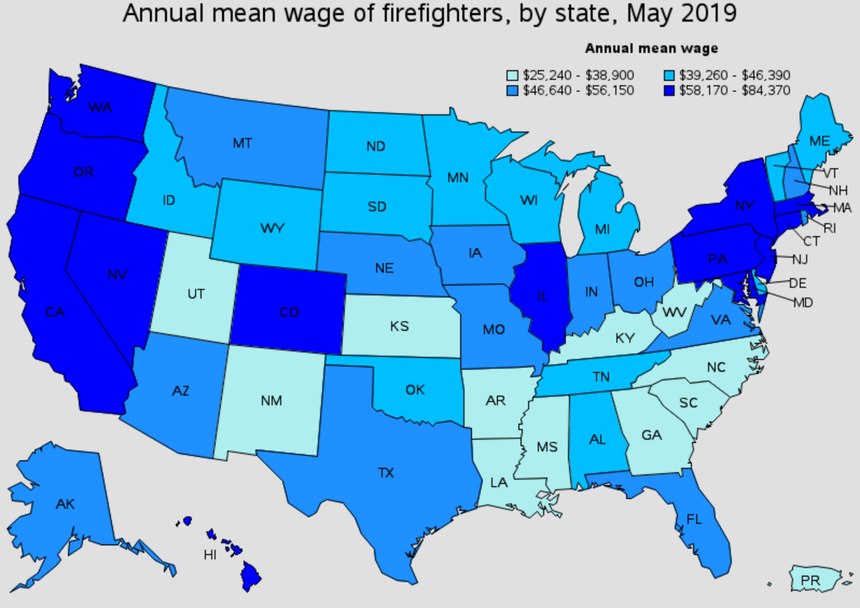 High salaries may be offset by the cost of living expenses, though. For instance, Los Angeles is one of the top ten cities for the highest-paid firefighters. A rookie salary starts around $63,216 and a top earner makes around $92,400. However, with a median home price in the mid-$600,000s, life in L.A. may still be tight for many in this occupation.
Alternatively, firefighters in the South tend to make less, but with a lower cost of living, they may still enjoy a more comfortable life.
FireRescue1 has compiled a list of the best states for firefighters from 2016 by comparing the average salary to the cost of living. Unsurprisingly, this list was dominated by states in the South and the Midwest. Alabama, Florida and Idaho made up the top three due to their relatively high salaries compared to a low cost of living.
A more general study of the top ten best places for first responders from 2016 shows the Pacific Northwest to be ideal for high salaries, housing affordability, job competitiveness and availability.
Salary by firefighter rank
The chain of command, or rank, of firefighters ranges from a probationary firefighter to fire chief. A written exam is usually required in order for a change in rank and, as an individual promotes, their responsibility grows, as well as their salary. 
Nationally, while the average firefighter will earn in the mid-$40,000's, a lieutenant will earn about $55,000 annually, a captain about $60,000 and a fire chief approximately $70,000. 
What benefits do firefighters have?
Firefighters frequently earn overtime wages, training or education reimbursements, paid vacation time, and sick leave. Firefighters typically work 12 or 24-hour shifts leading to longer intervals of time off, which is considered a benefit by many in the industry.
Firefighters typically have an option for early retirement, most often a firefighter is only required to have 20 years of service with their company, but the actual amount of pension may vary due to location and additional years of service. For instance, in Indiana, a firefighter with 20 years of service would receive 50 percent of the salary of a first-class firefighter in pension and for every additional 6 months of service, they would receive an additional 1 percent until reaching the cap of 74 percent. 
In addition to salary information, anyone considering this career should take other factors into consideration to ensure that it is a career for them.
This article, originally published on Feb. 13, 2017, has been updated.