Mother plans scholarship to honor paramedic who was fatally shot
In her son's honor, Janice Jackson wants to help others who want to become a paramedic, firefighter or other first responder
---
By Denise Hollinshed
St. Louis Post-Dispatch
NORMANDY, Mo. — Janice L. Jackson says her son Anthony knew from a young age that he wanted a career in which he could help others.
She remembers when he was 12 and his dog, Klondike, collapsed. He revived his pet with mouth-to-mouth resuscitation. She believes that is what led him to save lives as a paramedic with the Northeast Ambulance and Fire Protection District.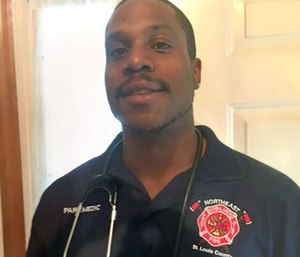 His own life was cut short this fall when the 36-year-old was fatally shot.
In her son's honor, Janice Jackson wants to help others who want to become a paramedic, firefighter or other first responder.
"I want to start a memorial scholarship in Anthony's name so that some young man or woman can pick up where Anthony left off and finish the mission that Anthony was not allowed to complete," said Janice Jackson, of Florissant. "I want to start an annual award scholarship for minority, economically challenged adults aged 21 and up."
Jackson created a GoFundMe account to raise money for the scholarship with a goal of $1,000. As of late Thursday, $525 had been raised. Jackson plans to have an annual fundraiser and save for the scholarship. But she may not have to rely on that.
When Northeast Fire Chief Quinten Randolph heard of her plans, he consulted with the district's board and foundation. The district has pledged to match the donations.
"I think that is admirable of his mother," Randolph said. "In today's world, to gift it forward is a blessing."
Randolph said Anthony Jackson, 36, was a valued employee for the two years he was with the district. He worked part time, and district officers were preparing to offer him a full-time position before he was killed.
During his time as a paramedic, Jackson received two awards for reviving two people who were clinically dead.
Childhood friend accused
Anthony Jackson died in a shooting Oct. 17 outside a home in Breckenridge Hills. His childhood friend, Troy L. Whitaker, 37, is alleged to have pointed a shotgun at Jackson's face after an argument and pulled the trigger.
Whitaker was charged with second-degree murder, armed criminal action and unlawful gun possession. He is being held in the St. Louis County Justice Center in lieu of $250,000 bail, cash only.
Janice Jackson said Whitaker and her son had remained friends over the years, even after Whitaker crashed her son's car in an accident.
"Troy totaled his car and turned around and sued my son's insurance," she said. "When someone shows you who they are the first time, you have to believe it. That friendship cost (Anthony) his life."
Janice Jackson says her son's accused killer has shown no remorse, and she doesn't know if she can forgive him for the shooting.
After Anthony was shot, crime scene detectives found the diamond setting from an earring he had been wearing on the pavement. It was a setting his mother had given him.
She got it back with his personal items and had a jeweler set the diamond in a pendant that she now wears around her neck to feel closer to her son.
"He supposed to be here," she said.
Her son never married or had children.
"His goal was to buy a house," she said. "He use to always say that he wanted a child. He felt he wanted to carry on the Jackson name."
She said she'll remember her son as a giver and a hero.
"I believe he was a helper," she said, as tears flowed down her cheeks, "and that is the reason he became a paramedic."
Copyright 2017 St. Louis Post-Dispatch