Why rescue is a thinking person's game
The bottom line: Don't get sucked into something before you give it the old once over
---
Updated Jan. 19, 2015
Years ago, when I took my first search and rescue class, the instructor talked about the six-sided review of a building or incident. "Look up, look down, and make sure you look all around before committing yourself," he told us.
Over the years, I have thought of that simple saying on many emergency incidents and have passed it on to thousands of my students during training. The bottom line: Don't get sucked into something before you give it the old once over.
It's easier said than done sometimes, especially when lives hang in the balance and quick action will affect the outcome of an incident. But what about all of those other occasions when you may have the time to do it right?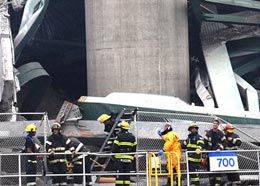 ​
What is your approach and thought process when you come across a technical rescue or any type of rescue for that matter? Is it a well executed series of steps or a fly by the seat of your pants operation?
Good team members, the right tools and practical training shouldn't be under valued, but that doesn't replace mentally being on your game.
To do that, you have to do something that most people hate or are too lazy to do. Rescue is a thinking game. You need to play the "what if" game. "What if a car goes over that edge, what if that building falls down, what if that place blows up, what if I have to cut that guy in half to get past him, what if I have to crawl in that hole to get that victim?"
It's not enough to just know how to use the tools, or be well practiced or to have a cohesive team. Rescue is a thinking game, and the people who can plan ahead, see something coming and are ready for it.
Organized chaos
You're always behind before you get there, that's a given. But how far ahead of the incident are you when you arrive? I used to work for a battalion chief who would say, "You don't bring a crisis to an emergency." Sure it's organized chaos at some scenes, but your level of organization and the ability to achieve the required levels under the most impossible circumstances is the real key.
How many of us can say that we are "masters" of our craft and how many want to be? Chances are, if you're reading this column, you're already a student of the trade, which makes you a cut above the rest. But there is a lifetime of learning to be done and every day is a school day in our profession.
If you think that you know it all, have seen it all or have it done it all, we're all in trouble and chances are you're probably a liability at a significant incident. Confidence should never be replaced by arrogance.
Rescue is a thinking game. The best people who have seen a thing or two tend to mostly be humbled by the experience — they don't say much, but when the going gets tough they often get going.
I love watching new firefighters, they have so much energy and so much enthusiasm, and they're great to be around. It's also fun to watch them expend all of that energy to no successful end sometimes. But with age and experience comes wisdom!
The veteran firefighter may not always be as enthusiastic, but that tempered approach, years of real world experience and knowledge of the tricks of the trade, often carry them through most calls.
But to be in the class above, you have to love it a little more to be really, really good at it. Superstars train harder, practice longer and are very, very focused.
So what does it take to be a master of disaster? Out of the box thinking, the ability to write down your first 20-30 moves on any type of rescue with a twist and a constant desire for perfection. And don't forget the lifetime of learning, listening and talking about the "what ifs" of our job.