16 must-read books for firefighters
Recommended books for entertainment or professional development
---
By Megan Wells, FireRescue1 Contributor 
FireRescue1 asked readers to recommend some of the best firefighter-related books they've read, and you shared plenty of interesting titles. 
Whether you're shopping for a holiday gift for your firefighter or just looking to pick up a new read, check out this list of firefighter-recommended books.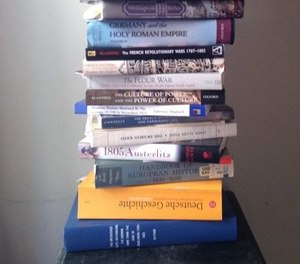 On Dec. 3, 1999, a three-alarm warehouse fire in a six-story, windowless building sent the Worchester, Massachusetts, Fire Department into action. The blaze was unruly, with rollovers, flashovers and backdrafts. Once inside the warehouse, the firefighters found themselves trapped in walls of blazing orange heat and black smoke where they struggled to survive an ill-fated ordeal that would push them to the limits of courage. "3000 Degrees" gives an unprecedented look at these heroic firefighters who rushed into the burning building when everyone else just wanted out.
This title is the first of 11 books written by Stapleton, retired chief of the Boston Fire Department. This particular novel takes you to the beginning of Stapleton's 39-year career. Stapleton shares his expertise, "how-to" insight and personal anecdotes that have shaped him into the person he is today. 
Smokejumpers are the Navy SEALs of the firefighting world. This book gives you an inside look into the epic adventures smokejumpers undertake as they parachute into wildfires in the most remote and rugged areas of the United States. 
Another title devoted to the elite smokejumpers, "Young Men and Fire" details a specific event on August 5, 1949, when a group of firefighters jumped into a remote forest fire in the Montana wilderness. All but three of the crew did not return. Maclean, who also wrote "A River Runs Through It," worked for the Forest Service in his youth and studied this fire extensively to write this perspective of the event. 
A memoir by Dennis Smith, "Report from Engine Co. 82" recounts a career as a firefighter in the poverty-stricken district of New York's South Bronx in the late 1960s. Smith tells the story of a brutalizing yet rewarding profession. 
If you're just starting the pursuit toward a fire career, this book is, as the title says, essential. This textbook covers all the required material for Fire Fighter I and II levels of NFPA 1001, NFPA 472, and OSHA 1910.120. 
Hensler's "Crucible of Fire" recounts practical knowledge gained from fighting 19th-century fires like the Great Chicago Fire of 1871 and the Great Boston Fire of 1872. These epic fires gave form and function to modern fire protection efforts. The aftermath of these historic events redefined city planning, water distribution systems and underwriting for fire insurance. 
Willing, a FireRescue1 contributor, profiles more than 35 women who serve as firefighters in the United States and Canada. Each shares her story, from 9/11 to EMS calls and everything in between. The common thread among all women featured in this book is their love and commitment to a life of service as a firefighter. 
Rubin is a 40-year fire service veteran and previous chief of Washington Fire & EMS in the nation's capital. This collection of behind-the-scenes stories provides insight on leadership methods, as well as perspective on some of the most common dilemmas in fire service leadership today. 
Kenney, whose grandfather was among the first on scene at the Cocoanut Grove Fire in 1942, is a third-generation firefighter in Boston. Kenney takes a culmination of stories from his firefighting family to look at the history of firefighting, the changing politics in Boston throughout the years, racial tensions prominent in Boston during the '70s and '80s, and his father's struggle with alcoholism from a career in fire. 
What does it take for someone to run into a burning building when everyone else is running out? FDNY officer John Salka, uses real-world stories to illustrate how to practice and teach high-stakes leadership and build loyalty in "First In, Last Out." 
For this book, Chief Billy Goldfeder gathered leading firefighters, fire officers and chiefs from all over the country to share their career wisdom and insights through short personal stories, life experiences and anecdotes. Proceeds from sales of the book go to a scholarship fund and the National Fallen Firefighters Foundation. 
(And don't miss "Pass It On: The Second Alarm" and "Pass It On 3: Making Good Progress.")
The 2007 Sofa Super Store fire, one of the deadliest incidents for firefighters since 9/11, left nine firefighters dead. Dr. David Griffin, the engineer on the first due engine of the incident, studies how first responders' organizational processes and employee behaviors changed after this deadly day and shares his findings in this book.
This textbook provides detailed information on improving fire suppression for the small community fire department. A few of the many topics covered include:
Why your department's capability to control and/or suppress fire is dependent on the "Big Five."
Tips for the fire officer on how to comply with pertinent standards and regulations and to stay out of court.
How new technology, Class A foam and CAFS can increase the capability of your firefighting resources, people, equipment and water supply.
"Smoke Your Firefighter Interview" is a great choice for any future firefighter. In this book, Chief Lepore covers 85 of the most commonly asked fire department interview questions. The format is simple: question, answer, and reasoning behind the answer. After answering each question, Chief Lepore carefully and thoroughly explains why he has answered the question the way he did. 
Prior to his death, America's fire chief, Alan Brunacini ("Bruno") wrote "Fire Command," which has long been credited with serving as an instrumental textbook about the incident management system. 
More great reads suggested by Lexipol's own Mike Vatter:
Editor's Note: What books did we miss? Tell us in the comments below and we'll continue to grow our list of must-read books for firefighters. 
Note: This article, originally published in 2016, has been updated.