Colo. firefighter wins NBC's 'The Titan Games'
North Metro Rescue Fire District Firefighter Matt Chan was initially selected as an alternate player, but ended up competing because another athlete got injured and could not participate
---
Tracy Swartz
RedEye, Chicago
Warning: Spoilers ahead
Matt Chan wasn't supposed to be on "The Titan Games," let alone win the second season of the NBC network competition. The south suburban native was crowned the men's champion on Monday's finale after conquering the Mount Olympus obstacle course.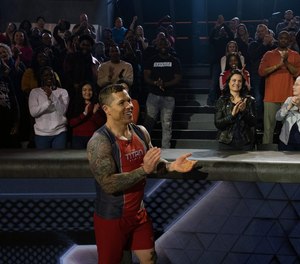 "It was a long road of ups and downs," Chan told the Tribune by phone about his time on the show. "I lost a lot of the events, and I had to fight back through the losers bracket on multiple occasions. It was a lot of fun to really earn that victory."
Chan, 42, attended Homewood-Flossmoor High School and played water polo for Western Illinois University. He's now a Denver-area firefighter and CrossFit Games veteran who endured a long recovery after severely injuring his right leg on a mountain bike ride six years ago.
He said he applied for "The Titan Games," which is hosted by Dwayne "The Rock" Johnson, after watching the first season. Chan said he was initially selected as an alternate player, but he ended up competing because another athlete got injured and could not participate. He was the oldest Season 2 contestant.
"He's 42 and a beast," Johnson said about Chan. "He was a little bit of a sleeper at first."
Players go through a series of grueling challenges that test strength, speed and stamina. Chan defeated retired NFL great Joe Thomas to become the central region champion after initially losing to Thomas in a photo finish on the Season 2 premiere.
On the finale, Chan easily beat east region champion Will Sutton and west champion Noah Palicia before beating Sutton, a North Carolina teacher, again in a head-to-head battle to win the $100,000 prize.
Chan said last week he hasn't received his winnings yet, but some of it will go to the home renovation he and his wife, Cherie, started before participating in the competition. The rest will be banked for the future, he said.
"I really didn't think that I would do that well going into this. I think it was mostly my mindset that carried me through and the support of my wife," Chan said. "The two of us just took each event as it was going to be fun, and I can only do what I can do and really just pushed as hard as I could."
It's been a pretty good summer for reality TV contestants from the Chicago area. Local performer Shea Coulee won Season 5 of "RuPaul's Drag Race All Stars" on a finale that aired last month, while Highland Park native Zack Ignoffo placed second on the most recent season of "Worst Cooks in America."
———
©2020 RedEye (Chicago)
McClatchy-Tribune News Service