How heart disease ended my firefighting career
Chief Bowker relives the event that ended his career and nearly his life and examines ways firefighters can avoid dying from heart failure
---
As I sit beside the warmth of the fireplace this evening reflecting on another holiday season, I am amazed that it has been 8 years since major heart surgery ended my firefighting career, but saved my life.
I count the many blessings my family and I have enjoyed since that time, including walking my daughter down the aisle, witnessing the marriage of two of our sons and seeing eight grandchildren being born into our family — all precious milestones that I came very close to missing.
I was operating as safety officer at a duplex apartment fire in August 2007, when I collapsed due to exhaustion after less than 30 minutes on scene. I was transported to the hospital where my EKG was found to be normal and no symptoms of cardiac trouble were present.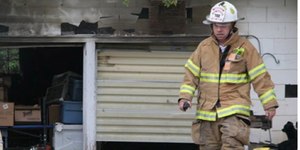 In addition, my annual fire department physicals had been normal too. The only indication I had that something wasn't right, was the fact that I was finding myself becoming more easily fatigued with moderate exertion.
Fast forward to the morning of Oct. 10, 2007. My alarm went off that morning and I got up for work. It was then I noticed a dull ache in the upper center portion of my chest. After initially ignoring this, a few minutes later the pain extended into my left arm and into my back between the shoulder blades.
State of denial
I knew what these symptoms were and did not want to believe this was happening to me. But, I also realized the fact that that denial is the number-one symptom of an impending heart attack.
Another fact that I realized about this time is that firefighters do not like to call 911 for themselves. I instead called the fire station directly and had the crew respond to my home; they arrived within minutes.
At the hospital, the blood test revealed that I did not have a heart attack. However, I was sent to the Kansas Heart Hospital in Wichita for further evaluation.
A trip to the cath-lab revealed that I had a 98 percent blockage of all three of the main coronary arteries, with additional blockage in a number of the lesser ones. I was diagnosed with hereditary coronary heart disease.
Bypass surgery was the only option. The following morning I went into surgery and received seven heart bypasses. As a result I modified my diet, lost over 50 pounds and now exercise regularly.
Thinking back, I recall coming home from work, or operating a structure fire, and that the muscles in both arms would ache, or that I was becoming increasingly fatigued at incidents. Again, that was unusual, but I did not associate it as a cardiac warning sign.
I had a ticking time bomb inside of my chest and didn't realize it. That's why coronary artery disease is called the silent killer. How many of you fit into this same category?
5 steps
Cardiac events remain the number-one killer of firefighters nationwide. And folks, in many cases it is preventable. Many firefighters won't say anything if they are not feeling well, so it is imperative that crew members know their own body, and keep a watchful eye on one another.
If the firefighter doesn't look right, talk to him or her. And if they don't feel well they should be immediately check by qualified medical staff. Too often firefighters either don't look well during or following an incident or comment that they don't feel well and it's ignored — only to find that firefighter died the following morning in bed. Do not ignore these warning signs.
Aside from watching for warning signs, here are five proven steps reduce your risk of cardiac problems.
Reduce fatty foods, sugar and white flour from your diet.
Exercise at least three times per week for 25 minutes.
Have an annual physical.
Know your family's heart history, particularly your father's.
Stop using tobacco.
Only by the grace of God am I still here to celebrate another holiday season with my family. The structure fire in August 2007 could have easily been my last alarm. According to my cardiologist I was "hanging on by a thread."
Responding to another fire, going up the flight of stairs to my office five or six times a day or just sitting at my desk could have been it. I came as close to the cardiac edge as you can get without going over.
I wonder how many more of our brother and sister firefighters will be missing Christmas next year because of a preventable LODD. As I write this we have had 80 LODDs this year and the month is not yet over.
Three of these deaths were in Kansas and all were cardiac related — two were personal friends of mine. One thing is certain: someone is missing tonight and another 80 families are mourning the loss of their beloved firefighters this holiday season.
What will you do now to help prevent one of the more than 70 line-of-duty deaths that will likely occur in 2016?