Is meditation the best cure for PTSD in firefighters?
Meditation may be one of the most surprising and useful treatments for PTSD, here's why.
---
June is designated as national post-traumatic stress disorder (PTSD) awareness month, but it's important to speak year-round about the symptoms of and treatments for PTSD to provide hope and awareness to those suffering with this life-altering mental illness. 
Unfortunately, the issue of PTSD goes largely unaddressed in public safety roles because of the stigma first responders experience when speaking about mental health issues. The fear of being perceived as incompetent or not up to the job makes them hesitant to admit they need help. Rather, they prefer to deal with it on their own. The reality of losing a career or workplace camaraderie contributes to this issue. 
The system won't change overnight, but the choices you make for yourself can.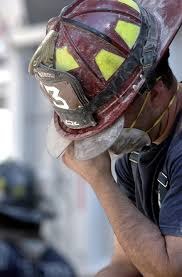 FireRescue1 has investigated the practice of meditation and its impact and healing properties on those living with PTSD. Meditation can be practiced by anyone, it doesn't cost an arm and a leg to try, it can be practiced alone – and its healing properties, according to the professionals, are exceptional. 
Why does meditation work?
Meditation is all about mindfulness and concentration. Erin Fletcher, regional Combat Stress Recovery Program director for the Wounded Warrior Project, says these skills are important for treating symptoms of post-traumatic stress "because it helps the individual increase contact with the present moment."
Because PTSD is an anxiety disorder, episodes of distress occur when a person begins to worry about the future based on previous painful, intense or stressful memories. Meditation can help bring that person's attention back to the current moment, which reduces or eliminates anxiety, she says. 
The science behind meditation
The U.S. National Library of Medicine and the National Institutes of Health published a study in 2007 about the effects of Transcendental Meditation on Vietnam veterans who suffer from PTSD. The study, which took place over the course of three months, found that symptoms such as alcohol use, high-startle response, emotional numbness and anxiety decreased in those who used Transcendental Meditation to treat PTSD. The study concluded by stating that "Transcendental Meditation should be considered a possible 'new and improved mode of treatment' for PTSD." 
Experts weigh in 
Dr. Lisa Long, a licensed psychologist, has worked extensively with first responders. She tells us it's especially important to focus on PTSD in first responders – military, EMTs, firefighters and law enforcement personnel – because while some people experience one or two traumatic events within a lifetime, people in public safety are exposed to traumatic events often, sometimes daily. 
"The frequency and lack of time to process and deal with exposure to trauma often leaves helping professionals in a situation where their symptoms of trauma become more complex as they are exacerbated by further trauma," she said. 
Long views teaching meditation to first responders as a preventative measure and a necessary for professional effectiveness. 
"The more proficient you are with emotional regulation and peak performance decision-making, the better you will be at your job," she said.
Dmitri Oster, a licensed social worker and counselor, works directly with first responders and says it's important to address the specific challenges that they face.
"First responders have unique stressors," he said, "and a therapist needs an understanding and appreciation for the specific work environment and cultural backdrop that many first responders and law enforcement personnel come from."
Oster recalls a patient he worked with in the past who responded well to meditation.
"Meditation was helpful, as it allowed the client to take a step back from his stressors, mostly personal-life related, and begin to look at his situation from other perspectives to gain a larger view," said Oster, adding that  this client was able to develop more empathy for his significant other, which improved his relationship and functioning. 
Annette T. Hill, clinical director at Warriors Heart, says the practice of meditation calms the individual and restores a sense of control. 
"While meditation doesn't fix the root causes of PTSD, it can help put distance between the symptoms and the person, giving them a sense of mastery and containment, making it possible to do that deeper trauma work," she said.
What are your options for practicing meditation?
The best part about meditation is that it can be done anywhere. You can practice at home, sitting in your car prior to starting a shift or anywhere else you feel comfortable. It can be done in a matter of minutes, too. 
One of the most popular resources for Transcendental Meditation is the David Lynch Foundation. This group recommends 20 minutes of practice each day for optimal success. The foundation also recommends finding a teacher to help initially learn the practice, but once you've had guidance, you can start practicing alone. 
Many yoga centers have guided meditation classes built into their schedule. Look for a yoga center near you for more information. 
Mindfulness-based Mind Fitness Training (MMFT) was developed by Dr. Elizabeth Stanley with a strong emphasis on improving military resilience through mindfulness. It's great for first responders, too, and many centers throughout North America offer this training. Here is a great article for finding a center nearest to you. 
PTSD is a very real concern, and the more we speak about it and provide options for help, the more advanced techniques will become. Please, start the conversation and spread awareness, all year long.