Pa. junior firefighter, 15, dies in freak accident
He was burning garbage when something inside exploded and struck him in the neck; his firefighter brother tried to save his life
---
By FireRescue1 Staff
MAHAFFEY, Pa. — Colleagues are mourning the sudden death of a 15-year-old junior firefighter.
The Progress News reported that Thane Lucas, with the Community Volunteer Fire Department, was fatally injured in a freak accident at home Tuesday afternoon. He was burning bags of garbage in a metal burn barrel when something inside exploded and struck him in the neck.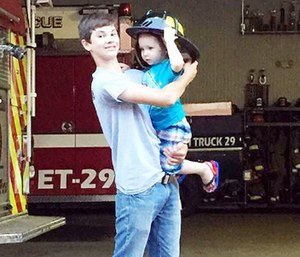 He was treated on scene by EMTs and airlifted to a hospital, where he died from his injuries.
Deputy Chief Josh Bush said Lucas was coming up on his one-year anniversary with the company. Lucas' brother, who is a firefighter at the same department, tried to save his brother's life.
"Thane had just finished his essentials training. He put in the time he was allowed to under state law," Chief Bush said. "He was very active in the fire company. He helped with fundraisers. He did as much as he could to help us out."
Below are photos taken by volunteer firefighter and FireRescue1 columnist Jerry Brant of Lucas' funeral service. Firefighters from Patton Fire Company stood by while Mahaffey firefighters went out of service.
"The number of firefighters attending the funeral service was so large that many had to wait outside, because the funeral home could not accommodate the large crowd," Brant said. "At the completion of the service, Mahaffey firefighters loaded his casket onto their engine rescue for his final ride to his resting place."