Southwest flight hero firefighter speaks out
Andrew Needum, who helped pull Jennifer Riordan back into the plane after she was sucked through a window said he's "no different than any other firefighter"
---
By FireRescue1 Staff
CELINA, Texas — A firefighter who is being hailed a hero after a Southwest plane emergency landing said he is "no different than any other firefighter."
USA Today reported that Celina Fire Department firefighter Andrew Needum shared his experience on the flight with reporters at his firehouse and recalled helping real estate agent Tim McGinty pull passenger Jennifer Riordan back inside the plane after she was sucked through a smashed window.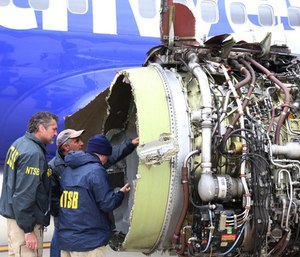 Needum declined to detail what went into their attempts to revive Riordan, who ultimately died from her injuries.
"Out of respect for her family, I am going to leave that alone," he said. "I am trained for emergency situations, and that is exactly what it was."
"I'm trained for emergency situations and that's exactly what it was" @CelinaFireDept Firefighter Andrew Needum with his wife & parents. Their family (children included) was on #Flight1380 and Needum rushed to help the woman being pulled out of the broken window. pic.twitter.com/UIvAND7f4t

— Shannon Murray (@ShannonMFox4) April 19, 2018
Needum recalled being surrounded by family on the plane when the oxygen masks came down and he heard a "loud pop."
The firefighter said after making sure his family was safe, he helped a woman get an oxygen mask on her 6-month-old son before hearing more commotion several rows back.
"I felt moved to act, as well as others on the plane," Needum said.
It was then that Needum saw McGinty struggling to pull Riordan back into the plane, so he jumped into action and assisted in the rescue.
"Tim McGinty, he was my big guy, he had my back," Needum said.
A retired nurse, Peggy Phillips, began performing CPR on Riordan with the help of Needum after the men succeeded in bringing her back inside.
"Peggy is a special lady," Needum said.
Needum added that he was thankful that his family survived and acknowledged the efforts of the pilot and the rest of the flight crew, but said he is sorry for Riordan's family's loss.
"There is a family that lost a loved one," Needum said. "I feel for her family, I feel for her two kids, her husband, the community she lived in."