Did you know Steve Buscemi was an FDNY firefighter?
The actor worked as a firefighter from 1980 to 1984, and returned to his department to help the week after the 9/11 attacks
---
You've seen Steve Buscemi in Pulp Fiction, Reservoir Dogs, and The Big Lebowski.
But you may have also seen an often-circulated photo of the famous actor in firefighter gear standing with FDNY's Engine Co. 55 after the 9/11 attacks.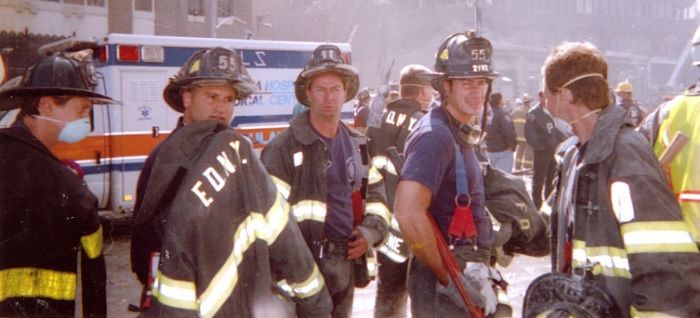 Steve Buscemi returned to Engine Co. 55 after the 9/11 attacks (Photo/Imgur)
Yes, Steve Buscemi was a firefighter with the FDNY.
Buscemi took the Civil Service exam in 1976 when he was 18 years old, and served with the department from 1980 to 1984. He joined because his father believed in civil service.
"Whatever test came up when I turned 18, if it was the cops or the firefighters or sanitation, I was going to take that test as long as I was living under his roof," he says.
He described himself as the quietest guy at Little Italy's Engine Co. 55, but he found his place among the team. Buscemi says he would have stayed for longer, but he kept on receiving movie offers and didn't want to miss out on becoming an actor.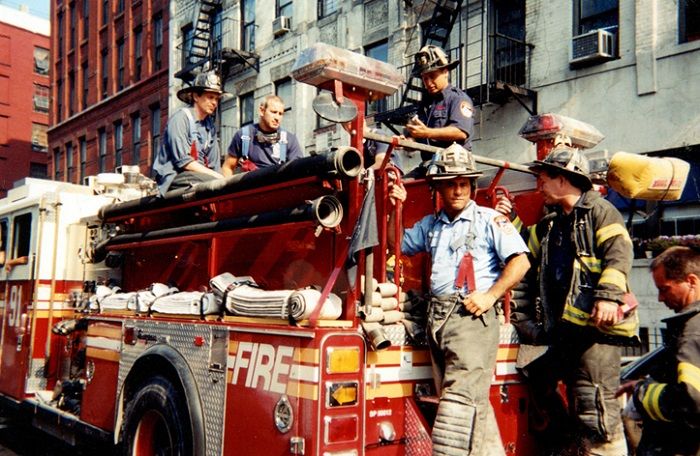 A younger Steve Buscemi working with firefighters at Little Italy's Engine Co. 55 (Photo/HBO)
In the wake of the 9/11 attacks, Buscemi returned to Engine Co. 55 to look for survivors in the rubble of the World Trade Center. The actor didn't give interviews about his work, and asked reporters not to take his picture. He even wore a surgical mask covering his face so he could avoid drawing publicity during the week he was there.
Buscemi opened up about the experience in 2014, when he starred and co-produced an HBO documentary called "A Good Job: Stories of the FDNY." He revisits his old department in the hour-long special, and allows veteran firefighters to share their experiences working in the fire service.
Buscemi first joined the FDNY at the age of 22, in between working blue-collar jobs and trying to make a name for himself in the world of acting and stand-up comedy.
Buscemi said he started firefighting when he "was living in Manhattan, working as a furniture mover during the day, doing stand-up comedy at night and looking for a change."
Despite only staying for four years, he has been a strong advocate for the fire service ever since.
In 2003, a budget crisis forced New York City to close five fire stations. Buscemi and other protestors locked arms in front of one of the city's oldest firehouses and were arrested for criminal trespass and disorderly conduct.
Buscemi continues to lend his fame to causes like Friends of Firefighters, which serves active and retired FDNY members. He spoke for the organization in 2012 following Hurricane Sandy, and stays close to the firefighting community.
"I liked the job — the guys I worked with and the nature of the work. I think I would have been happy doing it if I hadn't had a greater passion for acting."

Buscemi with the FDNY and now. (Photos/CBS News, AP)
Other famous firefighters include NBC anchor Brian Williams and UFC Heavyweight champ Stipe Miocic. The rapper Coolio also worked as a California wildland firefighter in the 1980s.