Ind. teen to become firefighter before high school graduation
Lake Station Fire Chief Chuck Fazekas said Taeylor Holliday, 18, is part of "a different breed," willing to risk her life to save others
---
By Allie Kirkman
The Times
LAKE STATION, Ind. — Taeylor Holliday isn't your typical teenager.
She's not spending late nights out with friends or binge watching Netflix on the weekends or preparing for college once she graduates in June from River Forest High School.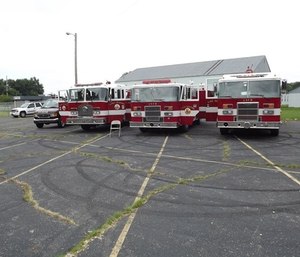 As Lake Station Fire Chief Chuck Fazekas said, Holliday is part of "a different breed," willing to risk her life to save others.
The 18-year-old is training to be a firefighter.
"I really look up to the career. I look up to those who put their lives at risk for someone else. It kind of scares me a little bit, but at the same time I'm OK with that," Holliday said. "Being a firefighter, you're dedicating your life to helping others."
Holliday is currently in her fourth month at the District 1 Lake Country Recruit Fire Academy in St. John, where she is training to become a firefighter for the Lake Station Fire Department.
She's the smallest and youngest in her class, which originally consisted of 44 participants and is now down to 30.
"It's very demanding. You have adults who want to get into the volunteer service that have a job, family and kids. Then you have kids who are still in school, have homework and sports," Fazekas said. "You factor that all in and for someone at that age to still do this and stay on it, it says a lot. It shows character."
The six-month training includes four hours a day on Tuesdays and Thursdays and an eight-hour skills day on Saturdays, totaling 201 hours of skill and 157 hours in the classroom.
Skills can include tasks such as putting up ladders, learning how to start saws to cut holes into rooftops for ventilation, dragging hoses to control fires and rescuing victims, which Holliday said has been tough physically and mentally.
"Just within the first three weeks, there was one day where I had to drag someone upstairs and this person was close to 300 pounds," Holliday said. "I was literally crying and screaming with the instructor right in my face pushing me to keep going. It was hard, but I did it."
That drive has stood out to her instructors, Fazekas said, adding that Holliday is in one of the hardest classes.
"She's kicking (butt). Her mental capacity is big and that's why she gets paired with the biggest guy there because they want to see how she reacts. They want to see if she's going to give up or just break down," Fazekas said. "She's not doing that. She's giving 100 percent to things most people wouldn't even attempt to do."
Holliday decided to take this path shortly after joining the Lake Station Fire Department's cadet basic training program, which was created two years ago to attract young people to go into firefighting careers and EMS programs. The program teaches introductory level knowledge of firefighting skills, tools and equipment while offering mentorships.
Cadets Maggie Ralston, Johnathan Luellman and Kaylee Hans recently completed the fire academy and joined the department in December. All three followed in their fathers' footsteps.
After the March 29 graduation, Holliday will be the fourth cadet in the department and first person in her family to become an emergency responder.
Taeylor Holliday practices putting on her turnout gear in under a minute. The 18-year-old is the youngest cadet in her class at the District 1 Lake County Recruit Fire Academy. She's training to be a firefighter for the Lake Station Fire Department. Check out nwi.com in the next few days for the full story.

Posted by The Times of Northwest Indiana on Friday, January 18, 2019
This brings hope to Fazekas, as the department's volunteer firefighter numbers have decreased over the years, matching national trends.
Nearly 70 percent of firefighters in the United States are volunteers, saving taxpayers an estimated $139.8 billion per year, according to the National Fire Protection Association. In the past three decades, the number of volunteer firefighters has fallen by 12 percent.
"There's a demand out there and there's not a lot of people running around, knocking down the door saying, 'I want to be a fireman,'" Fazekas said.
A strong devotion to the community and helping others is needed to become a volunteer firefighter and Holliday has what it takes.
"It's indescribable how proud we are and I don't even think she realizes how proud," said Holliday's mom, Jenifer Lohn, as she wiped away happy tears. "You always want more for your child."
"She's had her share of challenges, but this is by far the greatest challenge of her life," Craig Lohn said about his daughter. "She ran track in middle school and plays high school tennis, and I don't think I've seen her as excited over winning like she is when she comes home from the academy."
In addition to training, the academy provides students with state certifications. So far, Holliday has CPR, Bloodborne Pathogens, SIDS and Hazardous Material Awareness/Operations certifications, with Mandatory and Firefighter I/II next up on her list.
After graduation, Holliday said she will start working toward an EMT certification while continuing her career as a firefighter.
"Being able to help someone on their worst day really makes a difference. It's just something I love and want to do," she said.
Even if she ends up with the Chicago Fire Department, which is the goal, Lake Station Fire Deputy Chief Allen Rieck said she will always have a fire department family at home.
"When she comes in here on Sundays and helps our regular members do cleanup, she's treated like one of us. She has a family here. If something happens to her, we will always be there," Rieck said. "We love her to death."
McClatchy-Tribune News Service