8 tips to survive your first firefighter shift
The leap from cadet to on-shift firefighter can be daunting; here's how to manage those first impressions you leave and build bonds with the crew
---
Many firefighter recruits find themselves at a loss when it comes to working a shift, especially their first shift.
While they did well in the academy and feel confident in their abilities, many recruits find that shift work is an entirely different animal, particularly when it comes to getting along with fellow firefighters, making time for real effort and knowing when to relax, if ever.
Here are eight guidelines that will help you make the transition from new firefighter to crewmember and finally to teammate.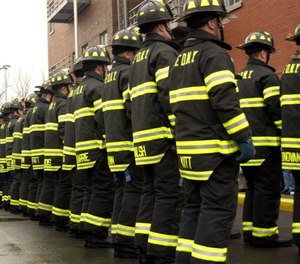 1. Be motivated
Firefighters are, or should be, self-motivated. If you find yourself with nothing to do, do something. Clean a bathroom, straighten your living quarters, or check the silverware drawer. Knowing the location of the can opener could save a lunch.
There is work, training, accountability and more work. Don't look for anything else right away.
Remember, the key to rookie time management is accomplishment; it's having the commitment to start something and the motivation to finish it. Choose what to do, focus on it and make sure you finish it. The trick is to make time for all of it and to enjoy some of it.
2. Have table manners
Meals are some of the few moments when relaxation is allowed, however stilted. Follow the conversation, do not lead it.
Resist the temptation to have an opinion on everything. If you listen carefully you will hear the desires, hopes, prejudices and aspirations of the crew you are assigned.
Be the first to serve and the first to clean. Do not leave the galley area until you check in with the cook. Wiping down appliances, furniture and counters is appropriate, but wait on the floor as it may be an evening chore.
Do not eat any extra food unless offered, and even then be careful. That last brownie the shift commander offered you may be favored by the engineer. A reputation gained early lasts forever.
3. Don't procrastinate
Nothing irritates a fellow firefighter more than when it's acknowledged that work needs to be done, but is put off for whatever reason. Make sooner (not later) your challenge when dealing with any chore or assignment. We all know how an alarm, unscheduled inspection or visit from a chief officer can serve to delay the day's routine and therefore the work you are responsible for.
Hanging out on the apron is not a reason to reschedule bathroom duty. Thinking the other guy has the faucets to clean is not an excuse to mark it off the chore list. Do not be the focus of these types of irritations.
Unfinished work sticks out like a sore thumb at the end of a shift regardless of the excuse. "Do it now, do it all" should be your mantra.
The addendum here is regardless of who is assigned a shift task, pitch in to help. The major tenet of any crew is that many hands make for light work.
Teamwork is not just for emergencies; working together is paramount to the efficiency and morale of a good crew and a great shift. Be part of that synergy whenever possible.
4. Know your role
As a professional firefighter, always know what is expected of you on calls. Sounding stupid is less uncomfortable than not knowing your job on tactical assignments when it counts. The smart money is on knowing how and when to ask.
Start with a fellow firefighter and work your way up the chain of command if you are unclear on exactly what others perceive your job to be. Practice what you have learned to be your assignment and then prepare to take on everyone else's job for whatever reason.
Know how shift communications works; this includes your radio channels, how to talk to dispatch and when traffic is required. On the radio, a firefighter can give information and ask questions but never give an order or even a suggestion. Talk to your officer after a call if your idea is still a good one.
Learn the lingo of your department but be careful of slang. Calling your officer "Cap" or "L.T." should feel uncomfortable until you have earned it. When in doubt, sound it out. Listen to others as they respond.
Respect for others may sound formal at first, but you cannot go wrong using it, especially if you find yourself speaking first.  
5. Roll with the shift flow
The shift officer has a schedule for a perfect world. Seldom realized but always aspired to, this breakdown of time is a reflection of shift values sprinkled with some humor as to exactly what a crew knows can be achieved during a shift.
There is a great deal of laughter when a shift goes well.
A shift may begin with a workout and breakfast and move to chores and paperwork. This can be followed by meetings, inspections, training, lunch and more inspections and training.
Evenings can be spent in education or just being together in front of a good game. As a new member of the shift it is essential for you to understand the pulse of a shift when there are no tones.
6. Turn off your devices
Don't bring your home habits into the fire station. Excessive use of your phone or tablet with its extended texting, emailing and scanning social media will immediately cause problems.
Even if no one says anything, resentment will grow with every moment you spend staring into your device. Constantly answering your messages will result in disciplinary action or a stern talking to if you are lucky.
Don't be a poster child for Media Monster of the Month. Find out what is acceptable behavior and dial it down one notch at a time until everyone is comfortable.
7. Be present
Many rookies think that by being passive and essentially disappearing, they are doing the right thing — that it's a good overall strategy for the new guy. However, the fire service requires that you must be available to be productive.
Not being around makes you vulnerable to the pet peeves of the shift. This can include paperwork done wrong, being late for anything or simply leaving your jewelry on. Dressing in Class Bs for a workout or arriving for an inspection in bunker gear reveals a firefighter not in sync with the daily schedule and makes the rest of the crew uncomfortable.
And the worst is walking on eggshells. Nothing irritates a crew more than when one of its members is apologetic or defensive about anything. It muddies the communication waters and creates dissention by words not spoken. Hiding is not the answer for anyone on shift, especially you.
8. Welcome advice
If there is confidence among your crew, there will be a great deal of free advice. These highly annotated lessons and their accompanying suggestions are the beginnings of lifelong friendships, not to mention numerous informal training sessions.
Accept all contributions to becoming a better firefighter and remember that the most sincere advice comes from mistakes made. Use what works and quietly discard the rest. And, advice usually comes with a good story.
8 more tips
As the rookie, you are the hands and feet of the team. You should be first to the phone and last to go to bed (if allowed). You should be the first up in the morning and last off the bay floor after a call.
Here are eight more pieces of advice to help you navigate your first shifts and your first year.
Be respectful of the rights and feelings of others, even if they are not yours.
Dress for the occasion by knowing what the circumstances are for your crew.
Minimize all personal business on duty.
Limit your complaints.
Hold off passing dirty laundry.
Limit swearing.
Do not be a part of any unprofessional behavior in or out of the station, regardless of temptations.
Conduct yourself with a confidently humble attitude. 
This article, originally published in 2016, has been updated.