Responding to the Las Vegas shooting, 1 year later
Chief Greg Cassell reflects on the Route 91 Harvest Festival attack, and how it's changed the Clark County Fire Department and their response protocols
---
Run, hide, fight ... a common mantra you hear in active assailant training across educational and corporate America, is maybe good for corporate America, but not so good for us. If you're like me, one year ago, you were glued to the news, watching reports of wild snipers strategically picking off concert goers in Las Vegas. Panic spread across social media and the response community as stories of snipers at other venues in other cities, and a myriad of theories permeated our psyche.
We know now, we were dealing with one gunman, in one strategically selected thirty-second floor corner hotel room on the Las Vegas strip. An astounding 58 people died and over 500 were taken to area hospitals in 10 to 15 minutes of aggressive mayhem that changed many of us in many ways, and will continue to affect us for many years.
Most of us can only imagine, not only what we would do, but also how this would affect us as first responders and our agencies. I recently spoke with Clark County, Nev., Fire Chief Greg Cassell about the October 1 Route 91 Harvest Festival attack, and how this incident has affected him and his department.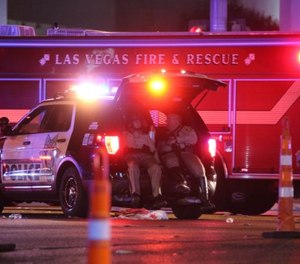 Oct. 1, 2017
The Engine 11 crew was on their way back from a minor traffic accident call. As the engine approached the Mandalay Bay Resort and Casino, the 'junior' firefighter on the rig, a 20-year veteran Army scout, leaned forward to tell the captain that the sounds he just heard were automatic gunfire, something he had heard many times before. "We need to get out of here." The crew called the gunshots into dispatch, who initially said, "we don't have anything." About 45 seconds later, dispatch responded, saying, "OK, we're getting that call now." Engine 11 became the Northern Division and went to work.
In the chaos of the following hours, the injured and the dead were initially scooped up in cars, pickup trucks, police cars and ambulances, whatever was available to ferry people to six area hospitals.
Cassell shared countless stories of heroism overcoming the mass panic, especially poignant to me; those of families pinned down behind cinderblock walls, of off-duty firefighters, paramedics and others getting their families to a safe place then returning to help. It is phenomenal to hear that not one Clark County firefighter was injured that night, though one Las Vegas City firefighter was shot in the foot and a California firefighter was shot in the chest while performing CPR on another victim.
Oct. 2, 2017
The morning after the incident, Cassell ordered everyone who was on the call, over 100 people, to "go home, stay away from the phone, be with your family, and be patient while we work on calling you and getting crisis and mental health professionals to help us all." Clark County has a peer support team, yet like most of us, Cassell admits they were "nowhere near ready for something on the scope of this." Cassell was overwhelmed and grateful to see two International Association of Firefighters (IAFF) Crisis Support Teams on the ground in Clark County less than 24 hours after the event.
Cassel explained before the incident, the county had centralized employee assistance programs throughout county government and was short an EAP representative. Many jurisdictions have experienced centralized EAP systems that don't focus on first responder issues and needs. The fiscal constraints on governments leave finance administrators micro-analyzing and questioning fire department budgets.
After the event, Cassell reports, the county finance director told him, "you guys were right" about spending money on training police in ICS and focusing on EAPs. The County Administration and elected officials operational support and support for change has been swift and steadfast.
Clark County Fire Chief Greg Cassell's takeaways from the Las Vegas shooting
Cassell offered the following pieces of advice for fire chiefs, officers and firefighters who may face a large-scale incident in the future:
Lean on mutual aid. A combination of classroom and practical experience prepares us individually for mass casualty incidents, yet a robust mutual aid response of peer and crisis support programs will be critical.
Coordinate with local hospitals. Cassell noted it's important to realize most of the area hospitals are not trauma centers, and were likely ill-prepared for the masses they were confronted with. One of the glaring needs this event revealed was the need for large scale patient management. As a direct result of this incident, and in a fairly-unique collaborative arrangement with the area hospitals, in the event of a mass casualty incident, the fire department will now immediately send an engine company to six designated hospitals – specifically to establish a "Hospital Division." That division commander will then assist the hospital staff in tracking and managing incoming patients, as well as calling for additional fire department resources as needed.
Don't ignore the media. "Feed the media beast, because they will hunt you down." The calls came fast and furious – with national media reaching Cassell's house phone at 6:15 a.m., just as he came home for a quick shower. Cassell and one deputy chief handled all media response for three days straight, no matter the time of day or night.
Prepare for ongoing response. With over 60 presentations scheduled and many more already completed by Cassell and his officers to share lessons learned from the incident, the international attention to the fire and EMS response was expected and is understandable. One year later, dealing with the details of this event still occupies two to three hours of Cassell's time, every day.
Oct. 1, 2018
As the one year anniversary of the incident that took 58 lives is upon us, there are hundreds of memorials and reflection events taking place. While noting the department simply cannot attend them all, Cassell expressed the department's appreciation.
He reflected on the tremendous pride and respect he has for the community he has called home for 50 years. Cassell is in his thirtieth fire service year, having risen through the ranks of the Clark County Fire Department. He noted one byproduct of the tragedy is an amazing sense of cohesiveness in the local community. 
One unexpected source of cohesiveness came from the NHL's first-year expansion team, the Las Vegas Golden Knights, which brought the community together. The Golden Knights went on to enjoy the strongest debut season for an expansion team in North American professional sports history – rising to the Stanley Cup Finals, ultimately falling short to the Washington Capitals.  Cassell said, "that was exactly the cohesiveness (and distraction) the community needed."
Cassel astounded me by reporting all of the Clark County firefighters returned to work, with only one retirement since the event. This is a testament to the chief, the department values, and the value of peer and community support programs.
But the work is ongoing. Crisis counselors caution the effects from a trauma like this may not reveal themselves in fire service employees for up to 18 to 36 months. These effects can manifest in family units, work status and physical psyche.
"There's no class to take on the intensity of emotional drama this incident involved," Cassell told me. "Our families have suffered with us, but with the community and peer support, we'll make it through."