Calif. $2.5M FD upgrade complete
The $2.5 million upgrade – paid for by insurance – came after heavy rains flooded the firehouse in October 2017, requiring the city to gut the entire inside
---
Rachel Rosenbaum
Appeal-Democrat, Marysville, Calif.
MARYSVILLE, Calif., — After more than a year of having to live out of trailers, Marysville firefighters this week moved back into their newly renovated fire station, which will be open to the public Saturday.
The $2.5 million upgrade – paid for by insurance – came after heavy rains flooded the firehouse in October 2017, requiring the city to gut the entire inside. A subcontractor had been installing solar panels when a storm moved in and the covering was blown away. Water poured through the roof's holes, damaging fire engines, electrical devices, furnishings, carpeting, wall coverings, electrical wiring and communications devices. Afterward, tests also found lead and asbestos inside the facility.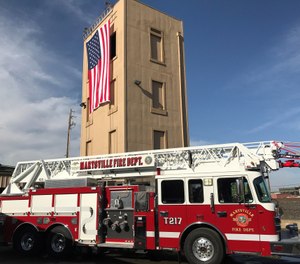 It's still the same 1958 building but now its amenities are modern, efficient and in compliance with state and county ordinances.
"The way I look at it, we got a new facelift," Marysville Fire Chief Ron Karlen said Wednesday. "It's very user-friendly and functional."
The first change is noticeable as soon as you walk through the front door. Previously, personnel had issues with citizens sometimes entering the building and walking straight back to the living quarters. Now, there's a 4-foot partition with a desk and security cameras that provide more security and privacy for firefighters.
The living quarters also used to be one large, open space. Now, sleeping areas are divided by curtains and cabinets. Although firefighters can still hear snoring from their peers, there's much more privacy than before. The kitchen boasts new, modern amenities and restrooms were brought into ADA compliance.
But what Karlen is most excited about is the washing machine. Before the renovation, the machine was in the bathroom where personnel were also decontaminating their equipment. The issue is that personal protective equipment is full of contaminants after calls. Now, it's out in the apparatus bay where the engines are kept.
"We wanted to keep cancer causing things out of the living spaces," Karlen said. "We tried to think about how to be more efficient."
Other notable renovations include new lighting in the apparatus bay, new IT lines, new electrical wiring, insulation and building code updates (which hindered the project's timeline a bit).
Unrelated to the station, the department is also working on building a new engine to replace an aged, first-out engine. The goal is for this engine to have a separate area where personnel can keep their contaminated turnouts, as cancer is a growing issue in the fire industry.
Overall, Karlen hopes these changes boost morale for firefighters.
"At the end of the day, they were improvements for employees," Karlen said. "You get beat down from 18 calls a day. They can come home to this second home and know it's as comfortable as can be for the people who put their lives on the line for their community."
Marysville residents can take a peek at the updated fire station during the city's Open City Hall Crawl this Saturday, June 29 from 11 a.m. to 3 p.m.
The crawl will start at the corporation yard at 1425 F Street for a tour of Public Works duties. From there, the group will head over to the fire station at 107 9th Street and enjoy lunch with the firefighters. Last, they will travel to take a look inside City Hall at 526 C Street.
———
©2019 the Appeal-Democrat (Marysville, Calif.)
McClatchy-Tribune News Service