PRESS RELEASE
Argus Thermal Imaging Cameras Grant Assistance Program Now Available for Fire Departments
---
Grants Assistance is Now Available for Argus Thermal Imaging Cameras in Time for the December 5, 2014 AFG Deadline
San Francisco, CA – argus® is pleased to announce its participation in a program to link emergency response and public safety departments with grant funding opportunities. 
In tough economic times, dollars are scarce and many city and county budgets are being cut. The amount of grant dollars available for Fire and EMS has remained strong, yet many departments are unfamiliar with the grant process and lack the knowledge or resources to successfully apply for grants. Argus has joined the grant assistance program managed by FireGrantsHelp.com to assist those interested in purchasing thermal imaging cameras.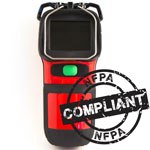 "Grants are a critical source of funding for departments across the country. The purpose of our program is to provide thorough information about available grants and the tools to create successful applications," said Sarah Wilson, Director of the Grants Program. "We are proud to be able to assist with simplifying the grants process for first responders."
The Mi-TIC is the smallest and lightest NFPA compliant thermal imaging camera ever created and is eligible for purchase using funds awarded by the Assistance to Firefighters Grants Program (AFG). 
The Mi-TIC package include: 
•    Mi-TIC NFPA 
•    5 year warranty PLUS battery cover 
•    Image and Video capture upgrade 

All for $8,999
Fire Departments interested in obtaining grant assistance can visit the website and fill out a grant assistance form here: 
www.firegrantshelp.com/argus/direct-grant-assistance-request-form
About argus®
Argus is an e2v brand, focused on designing and manufacturing the highest quality thermal imaging cameras on the market. Argus products are designed with firefighter safety in mind, which is why our latest product is the smallest and lightest NFPA compliant thermal imaging camera ever made; the argus Mi-TIC. For more information on the NFPA Compliant Mi-TIC, visit www.argusNFPA.com
About FireGrantsHelp.com
FireGrantsHelp.com's mission is to provide members of the first responder community with a comprehensive resource for grant information and assistance. We feature the most extensive fire grant database ever created, with a library of information not only for federal grant programs, but also state, local and corporate grant opportunities. 
FireGrantsHelp features a grant database that allows users to spend less time searching for grants and more time on research and grant writing. FireGrantsHelp also offers users a multitude of grant assistance tools such as: research guidance, grant writing and review, grant resources, tools, news, and much more. Our grant assistance program includes a number of options for fire departments seeking assistance in securing grant funding.