Customer Success Story: Priority Patient Transport
---
A fully integrated billing process increased collections and revenues within weeks of implementation.
Harrisonburg, VA - Priority Patient Transport is a private company offering medical transportation services, specializing in advanced life support and long distance transport. Based in Harrisonburg, Virginia, Priority Patient Transport conducts over 15,000 patient transports per year.
Priority Patient Transport services include:
• Basic Life Support (BLS) Transport
• Advanced Life Support (ALS) Transport
• Advanced Cardiac Life Support (ACLS) Transport
• Specialty Care (SC) Transport
• Wheelchair Transport
Implemented in 2011, MedaPoint's AdvanceClaim™ helped Priority Patient Transport increase staff productivity by 30%, decrease claim rejections by 82%, and increase cash flow by 24%. Ongoing expenses decreased by 45%, and Priority saw an overall revenue increase of 21%, as shown below.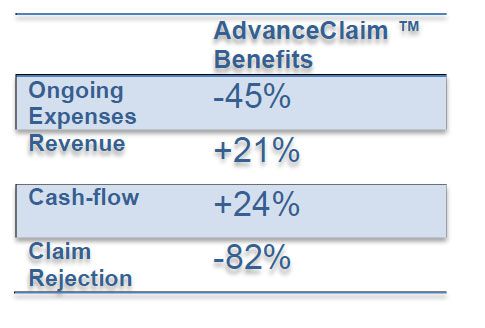 Challenges
Prior to implementing AdvanceClaim™, Priority Patient Transport outsourced its billing operations to a third party for years, but was dissatisfied with the services from more than one billing company. Priority found it difficult to find a company that could meet its specific needs and that it could also trust to perform its patient billing services correctly. A continuing source of frustration was billing companies not collecting the monies billed, but rather collecting the "low-hanging fruit," or the easiest claims for immediate reimbursement. This practice constantly left Priority in a state of not collecting the full amount of its receivables.
Priority decided to bring billing in-house. It started off with software that one of its previous billing companies had used. Though the software provider was one of the leaders in the industry, Priority's billing department faced new problems: it was expensive to add users to the application, request customized reports, and maintain ongoing training. The solution lacked the flexibility they needed in their specialized transportation business.
Priority sought a better solution to meet its needs, and the search led to AdvanceClaim™. AdvanceClaim™ offered all the simplicity and functionality necessary for their billing services. Functions that were particularly vital to Priority Patient Transport include but are not limited to:
• A web-based solution
• Unlimited users allowing the system to grow seamlessly with increased business
• Fully integrated clearinghouse services, including claim submissions, electronic
remittances, and more in one portal
• Ease of tracking and identifying runs with an issue through a tag organizing function
• Instant insurance eligibility tool for verifying billing customers' insurance companies,
including Medicare and Medicaid
• Fully integrated business process system
Business Results
Previously, there was a significant lack of transparency in important information that was hurting Priority's business and cash flow. When Priority switched to AdvanceClaim™, there were significant savings of administrative overhead and the company achieved a revenue increase of 21%. This was accomplished through increased efficiencies and customization that led to an overall increase in collections. Priority was no longer hindered by the previous billing application's lack of features or a third party billing company's focus on collecting the "low-hanging fruit."
Priority Patient Transport was able to drastically increase efficiency in its billing process. Prior to implementing AdvanceClaim™, a billing consultant was retained to evaluate the business structure and processes. She concluded that three full-time staff would be required to handle the company's call volume of 8,000 annual transports if they were to bring billing in-house. Three full-time employees were hired to utilize a competitor's billing application for in-house billing. Quickly, Priority realized the staff was inadequate to keep up with its in-house billing operations. Citing inefficiencies, after one year with competitive software, Priority switched to AdvanceClaim™, and was able to reduce its full-time staffing to two employees upon implementation. Fast forward to present day, and Priority still maintains two full-time employees to run its billing operations at an annual volume of 15,000, an increase of 88%.
Priority Patient Transport truly values its customers, which it demonstrates through its promise to "exhaust all efforts to get payment from the most appropriate payer, and make arrangements for payments to work with the patient in any way possible." The ease and efficiency of AdvanceClaim™ allow them to provide this superior quality of service.