Pierce Manufacturing and Fire Chief Magazine Honor 2012 Career and Volunteer Fire Chiefs of the Year
---
Chiefs from Atlanta Fire Rescue Dept. in Atlanta, Ga. and Latir Volunteer Fire Dept. in Questa, N.M. receive national awards at Fire-Rescue International
Appleton, Wis. – Fire Chief Magazine, part of Penton Media, Inc.'s Public Infrastructure Group, and Pierce Manufacturing Inc., an Oshkosh Corporation (NYSE: OSK) company, today announced the 2012 winners of the annual "Fire Chief of the Year" awards. Career Fire Chief Kelvin J. Cochran of the Atlanta Fire Rescue Department in Atlanta, Ga. and Volunteer Fire Chief Jona Olsson of the Latir Volunteer Fire Department in Questa, N.M. received the awards.
Winners (selected by Fire Chief Magazine's Editorial Advisory Board) are honored for their dedication and leadership in fire and emergency services. Sponsored by Pierce, the 17th annual awards will be presented during the opening session at the 2012 International Association of Fire Chiefs (IAFC) Fire-Rescue International Exhibits and Conference in Atlanta, Ga.
"We recognize and celebrate the commitment to leadership, innovation and service to others demonstrated by Chief Cochran and Chief Olsson," said Jim Johnson, Oshkosh Corporation executive vice president and president, Fire & Emergency. "It is an honor for Pierce to pay tribute to each of them for their remarkable accomplishments, within the fire and emergency services as well as in a wide range of other non-profit and community based organizations."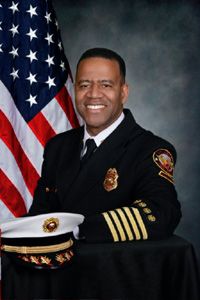 Career Fire Chief Honoree – Fire Chief Kelvin J. Cochran of the Atlanta Fire Rescue Department in Atlanta, Ga.
Fire Chief Kelvin J. Cochran has enjoyed a long and productive fire service career, spanning a total of 31 years including experience as a firefighter in Shreveport, La., a U.S. Fire Administrator in Washington, D.C., and two stints as fire chief of Atlanta, Ga.
As fire chief for Atlanta, Cochran is responsible for planning and administration of a $74 million dollar budget. He directs operations of a 980 member Accredited Fire Rescue Department (comprised of 35 fire stations with three shifts and six battalions) that provides fire, rescue, and emergency medical services. He was responsible for collaboration of homeland security and emergency preparedness initiatives between the City of Atlanta and the Atlanta Fulton County Emergency Management Agency (AFCEMA). 
While in Washington, D.C., Cochran was appointed by the President, and confirmed by the Senate, as a U.S. Fire Administrator. He directed administrative and operational activities of 620 career and contract staff of the United States Fire Administration, a directorate within the Federal Emergency Management Agency (FEMA), Department of Homeland Security.
Cochran has a degree in Organizational Management (bachelor of science) from Wiley College in Marshall, Tex., and a degree in Industrial Organization Psychology (master of science) from Louisiana Tech University, Barksdale AFB, Bossier City, La. Chief Cochran is community oriented and serves on and supports numerous non-profit organizations, including the Shreveport Firefighters Museum, the Norwella Council Boy Scouts of America, Volunteers of America, the Salvation Army, the American Society for Training & Development, and the Alliance for Education.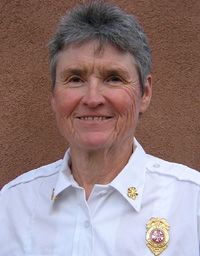 Volunteer Fire Chief Honoree – Jona Olsson of the Latir Volunteer Fire Department in Questa, N.M.
Jona Olsson began her career in the fire service in 1999 as a volunteer with the Latir Volunteer Fire Department. She rose through the ranks, from training officer, deputy chief, and finally to fire and EMS chief for the department in 2006. Olsson has also dedicated the past 25-plus years to social justice and training workshops as founder and director of Cultural Bridges to Justice that provides justice issue workshops and programs for non-profits and communities. She has facilitated training to individual departments and fire conferences across North America, as well as the United Kingdom.
Even during tough economic times, Jona has continued to expand her department, increasing both training and the number of qualified personnel serving this struggling socio-economic community in both EMS and Fire. Jona wrote and received more than $350,000 in federal and state grants. Of the 18 firefighters on the Latir department, all are now structure trained, 13 are qualified with wildland Red Cards, and nine have EMS licenses. Jona has developed and strengthened an active Junior Firefighter program that has nurtured firefighters for Latir, as well as other departments.
Olsson is currently chair of the Enchanted Circle Regional Fire Association, and serves as a member of the International Association of Fire Chiefs (IAFC) Volunteer/Combination Officers Section, serves on the IAFC Human Relations Committee, the National Volunteer Fire Council, the International Women in Fire & Emergency Services, the Taos Community Foundation– LGBT Advisory Council, and the Anti-Racism Educators/Organizers National Network.
About Pierce Manufacturing
Pierce Manufacturing Inc., an Oshkosh Corporation [NYSE: OSK] company, is the leading North American manufacturer of custom fire apparatus. Products include custom and commercial pumpers, aerials, rescue trucks, wildland trucks, minipumpers, elliptical tankers, and homeland security apparatus. In addition, Pierce designs its own foam systems and was the first company to introduce frontal airbags and the Side Roll Protection system to fire apparatus. To learn more about Pierce, visit www.piercemfg.com
About Fire Chief Magazine
Established in 1956, Fire Chief is the magazine for progressive fire service leaders. Articles by fire officers from across the country and worldwide cover a wide variety of important areas to today's fire service leaders. In addition, a monthly lineup of departments provides even more information, in a quick, accessible format. Fire Chief's monthly readers include chief officers, with a sizable contingent of incident commanders, training officers, safety officers, and other titles and ranks. Issue content and more information on the publication can be found at http://www.firechief.com.
About Oshkosh Corporation
Oshkosh Corporation is a leading designer, manufacturer and marketer of a broad range of specialty access equipment, commercial, fire & emergency and military vehicles and vehicle bodies. Oshkosh Corporation manufactures, distributes and services products under the brands of Oshkosh®, JLG®, Pierce®, McNeilus®, Jerr-Dan®, Oshkosh Specialty Vehicles, Frontline™, SMIT™, CON-E-CO®, London® and IMT®. Oshkosh products are valued worldwide in businesses where high quality, superior performance, rugged reliability and long-term value are paramount. For more information, visit www.oshkoshcorporation.com.