NIOSH: Fire truck backing alarm not working in Kan. chief's death
Investigators say the department had no procedure for backing apparatus and parked three vehicles in a bay designed to hold two
---
By Ken Robinson
FireRescue1 Associate Editor
LINN VALLEY LAKES, Kan. — An inoperative backup warning system and inadequate policies for backing apparatus led to the death of a Kansas fire chief who was pinned between two fire trucks, according to investigators.
A firefighter attempting to reverse a pumper truck into the firehouse bay at the Valley Lakes Fire Department unknowingly trapped Chief Stanley L. Giles on February 10.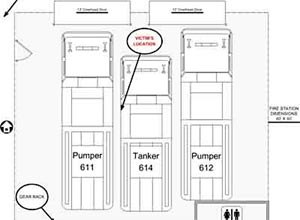 Thinking he had backed the pumper too close to a tanker parked inside the station, the firefighter exited the pumper to find the chief unconscious, a NIOSH report released Thursday said.
A coroner pronounced Chief Giles dead at the scene.
A police inspection following the incident showed the audible warning alarm and reverse lights were not working on the apparatus, the report said.
"The department lacked a program for the regular inspection of the apparatus, and no formal records (e.g., check-off sheets, driver logs) were kept on any of the apparatus," the report said.
NFPA 1500 Standard on Fire Department Occupational Safety and Health Program calls for all fire apparatus to be inspected at least weekly and prior to being placed in service or used for emergency purposes.
"If the audible warning device had been operating, the victim may have heard the backup alarm or seen the lights and moved out of the way," the report said.
NIOSH investigators say the death also shows the need for fire departments to have SOPs and training on safe backing of fire apparatus.
"In this incident, the Chief and the firefighter had no communication regarding backing responsibilities, and the driver did not know the victim was going to go behind or between the trucks," the report said.
The department has since instituted a backing policy.
In addition, investigators say the fire station was a two-bay station designed to hold two pieces of apparatus, but the department added a third.
"This resulted in limited room between the trucks and very little space for a spotter or backer to work safely," the report said.
Many older fire stations were designed to store fewer apparatus than they currently do, and exceeding the original intended capacity requires proper planning to ensure safety of personnel working nearby, according to NIOSH.
Visibility may have also been a factor, as the firefighter operating the pumper complained of obscured vision due to poor lighting and glare from the sun, along with a mirror possibly obstructed by a window vent frame.
"In this incident the truck was over 25 years old and had the original mirrors that were not adjustable by the driver," the report said. "After the inspection, the apparatus was removed from service permanently."
The report concluded by recommending fire departments consider replacing apparatus more than 25 years old and seek out programs that assist in obtaining alternative funding in doing so, including FireGrantsHelp.com.

Request product info from top Fire Apparatus Accessories companies
Thank You!