Q&A: Don't leave your fire rescue squad in the dark – here's how light towers can help your crew step into safety
A veteran firefighter discusses why every fire chief needs to let more light in
---
Sponsored by Command Light
By Yoona Ha, FireRescue1 BrandFocus Staff
Imagine dropping a patient headfirst on the ground. Causing avoidable harm to a patient is every first responder's nightmare. But it happens more frequently than we think, especially when scene safety is overlooked. Every experienced firefighter knows that situational awareness is key to assessing the dangers and hazards of the job.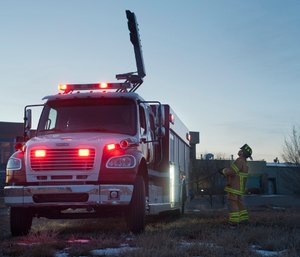 There are many factors to consider when assessing scene safety. Nowadays, firefighters have to look out for more things, such as active shooters or how an emergency vehicle should be placed. Moreover, incident commanders and response crews have to respond to cases that require them to see possible hazards within minutes of their arrival, no matter the time of day. Making sure that there's adequate scene lighting is key to the safety of patients and responders, but it's often passed over when teams feel overconfident about their ability to work in the dark.
The National Fire Protection Association reports that there can be lethal consequences when crews work in dimly lit conditions. What you can't see can hurt or even kill you. Just last year, 10 firefighters were struck by vehicles and eight died in crashes, which is far higher than the average of four motor vehicle-related deaths recorded each year during the past 30 years. Many of these cases involved first responders who were working on the scene on a road at night.
Lighting is essential for first responders, so your fire department shouldn't stop at putting lights on each corner of your apparatus. We spoke to Roger Weinmeister, president of Command Light and former board member of the Fire and Emergency Manufacturers and Services Association, on the latest innovations fire chiefs should be on the lookout for when it comes to lighting up the scene.
Is scene lighting an overlooked safety issue among firefighters?
Roger Weinmeister: Unfortunately, a lot of times it is overlooked. One way to think about it is to remember that proper lighting is an essential workplace requirement. Take an operating room, for instance – wouldn't you be concerned if your surgeon was operating on you in a dimly lit room?
In emergency medical services or in the fire service industry, we often are doing urgent and important work to save people's lives, but we sometimes try to get by using flashlights and other tools. There are so many things you overlook when you're working in a minimum lighting level, and that's where a lot of accidents happen.
What's an example of what happens when you ignore scene lighting during a call?
Roger Weinmeister: There was one accident that involved a car that flipped over in a farmer's field, with a female driver inside the vehicle. She was seriously injured already, but the first responders transporting her out of the car stepped into a ditch and dropped her on her head. Sometimes, I've heard of people walking into barbed wire fences, just because they couldn't see them. Another case involved a drunken guy who was injured in a big ravine, and it was so dark we really needed a light tower to properly respond to the call.

How do light towers compare to fixed mounted lights?
Roger Weinmeister: There are many powerful LED options on the market, but that doesn't mean that putting lights on each corner of your apparatus will illuminate the scene as effectively as a light tower would.
The new Octo CL series is the most powerful LED power available in our industry. Most light towers can't lift that many heads [eight] up in the air, but this one can. The tower is also very versatile and can be put into thousands of different positions by just the push of a button. You can hang the light tower over the side of the vehicle, which gets rid of the shadows that would appear on the side. The tower also rotates 360 degrees and can be tilted, lowered and controlled in many ways so the lights are closer to the scene.
The CL Series towers require only 15 seconds to set up, they are entirely electric, and they don't require any hydraulic tools to operate. All you have to do is plug the tower into a power source, and when you're done you can stow it away using the auto-park feature.
Budget constraints are a real concern, and some departments may be on the fence about the value of having a light tower. What's the return on investment?
Roger Weinmeister: You can do a better and quicker job with proper lighting. We've had numerous clients come back to me and say, hey, I finally got funding for this tower and it's paid for itself.
It can be really costly for departments to deal with lost wages and workers' compensation claims that stem from unsafe working conditions, such as spraining your ankle by walking into a ditch that was overshadowed by an apparatus without proper lighting. Anytime when you increase that lighting level, you're making it safer for patients and firefighters.
This is a real value for first responders, and leaders within the fire service industry should measure and monitor the impact that a change in lighting has had on incident management and on first responder practices on the scene. 
Request information from Command Light
Thank You!