Retired firefighter invents revolutionary fire hydrant
Aside from the 'alien' look, this reinvented hydrant has the guts to fight freezing, rust, vandalism and other problems that plague traditional hydrants
---
In an emergency, the last thing you want to find out is your fire hydrant doesn't work properly.
Retired firefighter George Sigelakis, founder and creator of the Sigelock Spartan Hydrant, saw a need to redesign the conventional fire hydrant after learning how easy it was to access them, steal water and damage the hydrant to the point of making it inoperable.
"I set out to redesign the hydrant so that firefighters would have a more reliable and safer tool at their disposal while trying to save people's lives and property," Sigelakis said.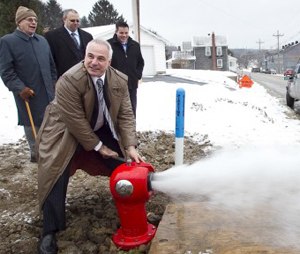 We caught up with him to learn more about his product. 
What was the impetus for the invention?
As a rookie firefighter in New York City, I quickly learned how unreliable and undependable conventional hydrants were. Anyone could easily access them, to steal water, or simply vandalize and damage the hydrant making it inoperable.
How does it make a hydrant secure?
Conventional fire hydrants have many common design flaws, but the most obvious is that the operating nut on the top of the bonnet is exposed. Anyone with a simple pipe wrench can open a hydrant and gain access to the water supply.
The Spartan shields the operating nut inside a ductile iron clamshell that can only be accessed with the Sigelock all-in-one wrench. If contractors, vandals, kids playing in the street can't open the hydrant and potentially damage it, then that makes it more secure for first responders during an emergency.
What has been the response from firefighters and fire chiefs?
Firefighters, as well as fire chiefs, have been very supportive. The Spartan is designed with firefighters' safety in mind and that resonates with all fire personnel. Once they get to see how easily and quickly it opens and how stable it is under pressure, they realize right away what a game changer it is for them.
Are the internal functions the same as a traditional hydrant and can it accommodate dry and wet systems?
The Spartan hydrant is a dry barrel hydrant which operates the same way as a traditional dry barrel hydrant. Our hydrants can potentially retrofit wet barrels but currently do not.
Why does it look different?
One of the important features of the Spartan fire hydrant is that it is engineered to keep unauthorized personnel out of the system. In order to accomplish this, the operating nut and caps needed to be redesigned helping to secure and maintain the integrity of the hydrant. Thus, the different look.
And does it connect to a Storz fitting or will it need an adapter?
For all traditional hydrants, the Storz fitting is an add-on feature. The Spartan, however, comes standard with either a screw on or Storz nozzle depending on what the customer wants.
How did you have the know-how, or inspiration to design/engineer this?
My inspiration came from a combination of things. First, I've always had an inherent ability to see the root cause of problems with mechanical devices. Second, while on the job as a firefighter, I recognized the initial problem with vandalized hydrants. As time passed, I later discovered the other numerous problems causing hydrant failure. Third, with the support of many family members, friends and a handful of faithful investors, I was able to engineer out all of the problems and recreate a safer, more reliable hydrant.
How, other than the recessed valve nut, is it different?
Besides the shielded operating nut, the Spartan hydrant has a redesigned lower valve called the tri-arm valve, designed to limit vibration under high-pressure flow. It has a redesigned drain ring and distribution plate which allows for better draining. Almost all of the internal working parts are made from marine grade stainless steel and military grade polymers, which are all anti-corrosive and designed to withstand abuse. The entire ductile body and standpipe is powder coated inside and out to further protect it from salt air, water and chemicals.
How durable is it compared with a traditional design, in terms of standing up to winters, dinged by vehicles, climbed on, etc.?
The Spartan's ductile body has a tensile strength which is seven times stronger than gray iron used in traditional hydrant bodies. Two important innovations make the Spartan stand up to the harshest winter elements: the lower valve made of a non-impressionable copolymer material that repels rocks and debris preventing leaks, and a re-engineered drain ring and distribution plate which allow for proper draining. Both of these enhancements prevent water from freezing in the barrel which can have a catastrophic outcome during a fire emergency.
What happens if the special hydrant wrench is lost or broken?
Fortunately, there is a protocol already in place that has more than one first responder carrying the proper tools and wrenches necessary to open the hydrants in their system. Backup wrenches should be provided to all of those potential responders.
What's the cost?
The upfront cost, which varies due to a number of factors such as location, bury depth and security configuration, is roughly 20 to 30 percent more than traditional hydrants. The savings on maintenance, repair, leaks, and stolen water over the lifetime of the Spartan hydrant is significantly greater than any initial premium. It's all about reliability, ease of operation, and elimination of costly and timely maintenance and repair.
How long has it been on the market?
Sigelock Systems has had U.L. approval to market the Spartan fire hydrant in the U.S. for two years. It is currently available for purchase in all 50 states and will also be available in Canada very shortly.