The firehouse kitchen table experience: Building connections among members
Communal meals may be limited, but we can find ways to maintain the shared kitchen table time that builds a sense of family
---
Upon his recent retirement after 50 years in the fire service, District of Columbia Fire/EMS Chief Gregory Dean reflected on what was likely his most challenging day during his tenure with DCFEMS – his third day on the job in 2015.
Lt. Kevin McRae and his crew arrived at the scene of a first-due apartment fire at 1330 7th Street NW, on May 6, 2015, around 8 a.m. Lt. McRae and his crew ascended the nine floors to fight the fire, which would ultimately become a second-alarm fire. After fighting the fire, McRae collapsed outside the building, and others quickly performed CPR.
McRae was the 100th firefighter to die in the line of duty for DCFEMS. We later learned that McRae's cousin, James McRae, also died in the line of duty with DCFEMS in 2007. Both McRaes suffered fatal heart attacks during service to the department.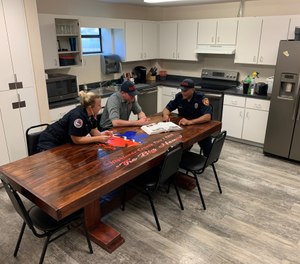 In response to a reporter's question about his most challenging time as chief, Dean reflected on the sense of family he felt during that LODD experience.
As COVID-19 has changed so much of how we operate, and has forced the 2020 postponement of the annual National Fallen Firefighters Memorial sojourn, I ask you to reflect on both our fallen and the family within all of us. The family I'm speaking of is both our biological family and the proverbial spirit of family within the fire service.
The family at the kitchen table
That sense of family is what drew me, and so many others, into the fire service. While many of us have generations of family lineage in the firehouse, I do not. Joining as a volunteer at the age of 16, I wasn't missing anything in my own family upbringing. I was just looking for something different and more meaningful, and oh boy, did I find it!
I recall riding my bicycle to the station before I could drive and seeing everyone sitting around the kitchen table. That table was where everything happened – yes food, but more importantly in the grand scheme of things, the training, counseling, growth and kibitzing (and yes, the occasional games of cards).
The family that Chief Dean experienced – the one we grew up with in the fire service – manifests daily at kitchen tables across the country.
Reflecting on a time gone-by, the table at home was a family ritual. Before TV was prevalent, and certainly before smartphones or electronic games, the true family kitchen table was where you broke bread, shared the events of the day with each other, and planned the next part of today or tomorrow. At my home, our time at the kitchen table was not an optional calendar event. Similarly, as I came up through the fire service, the kitchen table time was an expectation where so much happened.
I think back to that morning, May 6, 2015, to the kitchen table at DC Engine Company 6, where McRae likely ate his last breakfast, held his last training session, and had his last opportunity to kibitz before that 8 a.m. fire. What did they talk about that morning? What things were planned for the day at that table – things that never happened? What did the crew learn from that morning's kitchen-table session?
We may never know the answers to those questions, but we can certainly keep the spirit of family at the kitchen table alive in our stations today.
The metaphorical kitchen table
I find it ironic and unfortunate that I had to give the order to limit communal meals at the kitchen table.
Understanding the needs of social distancing, masking and hygiene, here are my recommendations to use this time to find more metaphorical kitchen tables to keep that spirit alive for all of us:
Use the need to clean and disinfect as a small-group kitchen table opportunity. We may not be able to have large group dinners, but we certainly can carry the concepts of the kitchen table to any of our functions related to COVID.
Use the on-air opportunities, with or without headsets, to have the kitchen table discussions you can't have actually sitting at the table. I've talked before about "traffic light command." I'm referring to the daydreaming incident while you sit at the traffic light, except don't just daydream it; work it through with your crew. "What would you do if …" or "If you do this, what's going to happen?"
Figure out the virtual-platform kitchen table that works for your crew. Nothing replaces face-to-face interaction, but in this era of COVID, we have a responsibility to discourage large-group face-to-face interaction – and it pains me to say that!
Social media and smartphones have pretty much become a necessity for our work. Unfortunately, too many within our family are addicted to the device, an addiction that is exasperated by the self-isolations of COVID. I would prefer to see a shift to an addiction to learning with the devices – and don't try to kid yourself, far less relevant learning is occurring on that device than some would have you believe. Find that platform or site that allows you to build your virtual kitchen table.
Honor the fallen and connect with family
COVID has not only taken more than 80 fire and EMS personnel, but it has also interrupted our kitchen table experience. While we pause in September and October to remember our fallen and rededicate our commitment to "Everyone Goes Home," let's find that new, if not temporary, niche that fills the kitchen table void. It's a family void we cannot allow to remain empty!
Editor's note: How are you maintaining a sense of family and community amid social distancing? Share in the comments below.