By MagneGrip
Diesel exhaust emissions can spread toxic gases and fine particles throughout a firehouse anytime a diesel-fueled engine is operated. Studies have shown that exposure to this type of pollution can increase the risk for disabling or fatal diseases such as cancer and respiratory and cardiovascular diseases. The National Institute of Occupational Health and Safety (NIOSH) says diesel exhaust should be considered a potential occupational carcinogen, based on animal and human evidence.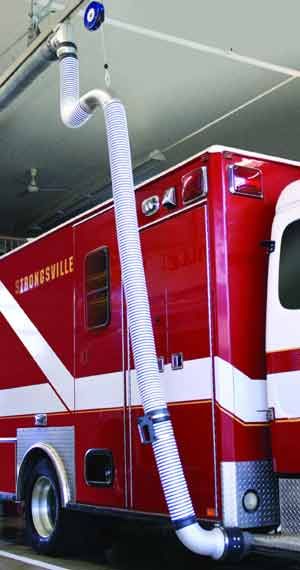 Photo MagneGrip
MagneGrip Flexhose System
What effect are these toxins having on the health of firefighters and emergency medical technicians (EMTs) who work, and sometimes sleep and eat in firehouses? Diesel engines are operated in those facilities year-round, day-in and day-out. Shouldn't modern technology provide a safe and effective way to protect those personnel from this health hazard?
Can adequate protection be provided?
Several types of exhaust removal systems are marketed to the fire services. Many of them are inadequate because they remove only a portion of the toxic air contaminants. Those solutions that consist of fans and air vents do very little to reduce exposure to the hazardous toxins. Likewise, vacuum systems mounted above vehicles obviously do not capture all the exhaust emissions and the harmful gases and particulates are able to spread throughout the firehouse.
The International Mechanical Code for new construction specifically states: "Areas in which stationary motor vehicles are operated shall be provided with a source capture system that connects directly to the motor vehicle exhaust system."
Under-body devices that replace a vehicle's muffler, are inadequate because they only "filter"—and do not "eliminate"—the exhaust emissions. Such attachments filter out some of the solid substances, but do not capture the gaseous toxins that are released into the air.
These devices may reduce the appearance of smoke, but the harmful gases in diesel exhaust such as CO (carbon monoxide), VOCs (volatile organic compounds), and HC (hydrocarbon) are invisible . . . but deadly. In addition, muffler replacement equipment requires frequent and costly filter cleaning or replacement. Surprisingly, some fire departments are paying much more for these devices than the cost of a source-capture system that is guaranteed 100% effective.
In today's market, only a few manufacturers can make valid claims for removing 100% of exhaust emissions in the firehouse. However, not all of these systems are created equal. Some are complicated in design and not user-friendly, some require extra attachments and equipment to operate, and some do not disconnect easily.
An analysis of the source capture category shows that one type of system is easiest to operate, requires the least maintenance, and has thousands of installations to verify its reliability and durability. It is the MagneGrip Exhaust Removal System.
What makes better technology?
MagneGrip improved the "100% source-capture" design by making it easier and safer to use. The manufacturer of MagneGrip systems has a patented design that eliminates the need for compressors, air lines, gauges, electrical system support and other extraneous equipment. This type of equipment continues to be standard on older model source-capture systems.
Because MagneGrip's advanced technology systems have fewer components, they offer end-users three important benefits:
They are less costly up front.

They are simpler to operate.

They require less maintenance.
A core feature of the MagneGrip system is its patented universal nozzle. The nozzle incorporates rare-earth magnet assemblies to hold the nozzle in place and provide a no-leak seal. On emergency runs, the nozzle remains attached until the apparatus' tailpipe reaches the doorway; then it automatically releases. The nozzle disconnects easily and smoothly, and a cable gently retracts the hose and nozzle away from the exit.
Another advantage of MagneGrip's patented nozzle is its one-way check valve, which allows outside air to enter the nozzle, but seals against backwash of exhaust fumes. Outside air mixing with the exhaust provides cooler nozzle and hose operation and less wear. It also reduces negative air pressure on the apparatus turbocharger when the engine is not running and avoids damage from the turbocharger spinning without lubrication.
The efficiency and consistent fail-safe performance of MagneGrip's "friction release" design has been proven in thousands of installations nationwide. These installations also demonstrate the reliability of the MagneGrip system's components, which are quality built to provide many years of dependable service.
A system for every firehouse
MagneGrip has more exhaust removal solutions than any other company. Since buildings, apparatus configurations and operations vary, it is important to have the right system to meet the specific needs of every firehouse. MagneGrip systems include:
Sliding Flexhose Track (SFT) System — A compact system that works well in firehouses with back-in bays that have low ceilings or narrow spaces between vehicles. Only 16-24 inch aisles are needed. This streamlined system has no hanging hose loops.
Sliding Balancer Track (SBT) System — A good choice for drive-thru bays, providing door-to-door exhaust capture. The system can be installed in each bay for one vehicle or two vehicles parked in tandem, and it connects to emergency or non-emergency vehicles.
Straight Suction Rail (SSR) System — This system is ideal for firehouses with little room to spare. It accommodates up to four emergency response vehicles parked in tandem. The SSR system uses the MagneGrip nozzle and minimum hose lengths.
Vertical Stack Rail (VSR) System — Designed for vehicles with a vertical exhaust stack. No manual connection is required. When the apparatus returns from a run and enters the station, the stack catcher automatically adjusts to align the suction rail with the exhaust stack.
Simple Drop System — It has the same components as the SBT system, without the track. On emergency runs, the nozzle remains connected until the hose and cable are fully extended and then it automatically releases. An economical option for vehicles that may be started daily, but are not used regularly for emergency runs.
Recent design advances
MagneGrip continues to innovate and bring new design enhancements to its exhaust removal systems. Wireless Transmitters are used to automatically start the exhaust fan and draw exhaust fumes out of the building. MagneGrip Exhaust Fans are designed solely for exhaust removal. Spark-resistant, curved blades deliver the highest efficiency, and the fans run quieter than conventional fans.
The die-stamped Lifting Elbow on MagneGrip systems eliminates hose pinch, twisting and sliding that occur with old-style rubber saddles. From the lifting elbow to the nozzle, a Support Cable inside the hose bears the weight to eliminate hose stretching. It also ensures easy release of the nozzle.
The lower two feet of the MagneGrip hose is 5-ply thickness for rugged durability. An attached handle makes connecting the system effortless from a standing position.
GREEN OPTION – MagneGrip offers an Inline Particulate Filter, which can be positioned in the system's ductwork, to capture exhaust particulates so they are not expelled into the air outside.
For more than 15 years, MagneGrip has led the exhaust removal industry with major advances in technology and design. And . . . MagneGrip systems are professionally installed by a nationwide team of service technicians to provide guaranteed satisfaction.
Made in America
MagneGrip Exhaust Removal Systems are completely (100 percent) manufactured in the U.S.A. Firefighters and EMTs can take pride in having a system that is "All American," as well as the safest, most efficient system available. Competitive systems are often the products of foreign companies, which are largely manufactured outside the U.S. MagneGrip uses American Standard parts (not metric), so if any adjustment or repairs are needed, most departments will already have the tools on hand.
For more information, a proposal, grant assistance or budgetary numbers, visit www.magnegrip.com or call 800-875-5440. A full-color brochure and a video DVD demonstrating the advantages of MagneGrip systems are available.