Pierce Offers New Cummins ISX 15 Liter Engine
Pierce Manufacturing Inc.
APPLETON, Wis. (April 19, 2010) — Pierce Manufacturing, an Oshkosh Corporation (NYSE:OSK) company, today announced that it will be offering the new Cummins ISX15 fifteen liter engine on the Pierce Velocity® custom chassis. The engine delivers an impressive 550 horsepower and 1850 ft-lbs of torque, and will be on display at the Pierce booth #8647 at the Fire Department Instructors Conference (FDIC) in Indianapolis, Ind., April 22-24.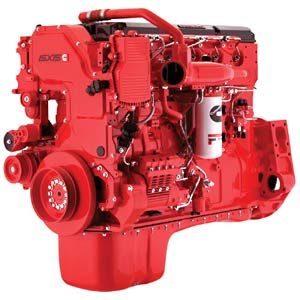 Photo Pierce Manufacturing Inc.
Pierce Manufacturing will be offering the Cummins ISX15 fifteen liter engine (available summer 2010) on Velocity® custom fire apparatus.
"Pierce is synonymous with custom fire apparatus and providing more choices for our customers. That's why we're excited to announce the availability of the Cummins all new ISX15 fifteen liter engine," said Wilson Jones, Oshkosh Corporation executive vice president and president, Fire & Emergency. "With its outstanding power, fuel economy and reduced emissions, it's a great choice for departments that demand the most from their apparatus."
The EPA 2010 compliant Cummins ISX15 engine offers superior driving performance; improved fuel economy and emissions levels are reduced to near zero without sacrificing reliability or durability. In addition, Pierce engineers have developed a patent pending packaging solution that will not adversely affect wheelbase length, cab and compartment space, or choice of options on the vast majority of apparatus. Other Cummins engine choices available on Pierce vehicles will include the ISC8.3, ISL9 and the ISX11.9.
About Pierce Manufacturing
Pierce Manufacturing Inc., an Oshkosh Corporation [NYSE: OSK] company, is the leading North American manufacturer of custom fire apparatus. Products include custom and commercial pumpers, aerials, rescue trucks, wildland trucks, minipumpers, elliptical tankers, and homeland security apparatus. In addition, Pierce designs its own foam systems and was the first company to introduce frontal airbags and the Side Roll Protection system to fire apparatus. To learn more about Pierce visit www.piercemfg.com.
About Oshkosh Corporation
Oshkosh Corporation is a leading designer, manufacturer and marketer of a broad range of specialty access equipment, commercial, fire & emergency and military vehicles and vehicle bodies. Oshkosh Corporation manufactures, distributes and services products under the brands of Oshkosh®, JLG®, Pierce®, McNeilus®, Medtec®, Jerr-Dan®, Oshkosh Specialty Vehicles, Frontline™, SMIT™, CON-E-CO®, London® and IMT®. The Oshkosh brands are valued worldwide in businesses where high quality, superior performance, rugged reliability and long-term value are paramount. For more information, log on to www.oshkoshcorporation.com.
®, ™ All brand names referred to in this news release are trademarks of Oshkosh Corporation or its subsidiary companies.
Forward-Looking Statements
This press release contains statements that the Company believes to be "forward-looking statements" within the meaning of the Private Securities Litigation Reform Act of 1995. All statements other than statements of historical fact, including, without limitation, statements regarding the Company's future financial position, business strategy, targets, projected sales, costs, earnings, capital expenditures, debt levels and cash flows, and plans and objectives of management for future operations, are forward-looking statements. When used in this press release, words such as "may," "will," "expect," "intend," "estimate," "anticipate," "believe," "should," "project" or "plan" or the negative thereof or variations thereon or similar terminology are generally intended to identify forward-looking statements. These forward-looking statements are not guarantees of future performance and are subject to risks, uncertainties, assumptions and other factors, some of which are beyond the Company's control, which could cause actual results to differ materially from those expressed or implied by such forward-looking statements. These factors include risks related to sustaining the required rate of production for the M-ATV contract and the amount, if any, of additional orders for M-ATVs that the Company may receive; the cyclical nature of the Company's access equipment, commercial and fire & emergency markets, especially during a global recession and tight credit markets; the duration of the global recession, which could lead to additional impairment charges related to many of the Company's intangible assets; the expected level and timing of U.S. Department of Defense procurement of products and services and funding thereof, risks related to reductions in government expenditures, the potential for the government to competitively bid the Company's Army and Marine contracts and the uncertainty of government contracts generally; the consequences of financial leverage associated with the JLG acquisition, which could limit the Company's ability to pursue various opportunities; risks related to the collectability of receivables during a recession, particularly for those businesses with exposure to construction markets; risks related to production delays as a result of the economy's impact on the Company's suppliers; the potential for commodity costs to rise sharply, including in a future economic recovery; risks associated with international operations and sales, including foreign currency fluctuations; and the potential for increased costs relating to compliance with changes in laws and regulations. Additional information concerning these and other factors is contained in the Company's filings with the Securities and Exchange Commission. All forward-looking statements speak only as of the date of this press release. The Company assumes no obligation, and disclaims any obligation, to update information contained in this press release. Investors should be aware that the Company may not update such information until the Company's next quarterly earnings conference call, if at all.