RAM Announces Tough-Dock Powered Docking Station for the Panasonic Toughbook CF-31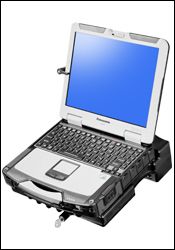 The RAM Tough-Dock™ for the Panasonic Toughbook® CF-31 is available in both light weight aluminum and high strength composite enclosures. Our customer base has diverse requirements which consist of Consumer, Commercial, Industrial and Military needs. For these reasons, people have come to expect more from RAM and once again, RAM delivers. Standard features include an integrated 120W power supply to provide your CF-31 with precisely the correct amount of power for your computing needs, an integrated screen support and easily accessible external power switch and fuse. All of these features come at a fraction of the competitor's price. When safety, features and budget are your primary focus, look no further than the RAM Tough-Dock.
The RAM Tough-Dock product line is truly the most revolutionary computer docking solution in the world. RAM's innovative, patented docking technology involves molding Tough-Dock docking stations utilizing high strength composites and light weight marine grade aluminum materials. Through innovation and the use of a variety of technologies, the RAM Tough-Dock offer features that you simply cannot find from any competing docking solution. As a result of the molding process, RAM Tough-Docks are free from sharp edges and corners. Smooth edges and corners ensure the user will not be injured while using the dock and simultaneously creates a clean and ergonomic finished product. This makes the RAM Tough-Dock an ideal solution for in vehicle applications.
The RAM Tough-Dock is designed to seamlessly integrate with hundreds of unique RAM mounting solutions making it the most versatile docking solution for the Panasonic CF-31 currently available.
For more information visit www.ram-mount.com