Nine 1 One Gear shows off 2 new jackets at FDIC
Daring outdoor company now has its sights set on fire market
---
By Scott M. Bruner
FireRescue1 Product Editor
INDIANAPOLIS — There were a number of new companies offering wares at April's FDIC show in Indianapolis, but one new entry in the outerwear market offered a compelling new approach to a very traditional field. Nine 1 One, which got its start 20 years ago as mountain rescue gear provider Airtime Hood, is offering a pair of new jackets as stylish as they are functional.
"We're trying to change the old school uniform-cut brand. We make versatile, ergonomically-designed gear." Peter Ettro, the new president and CEO of Nine 1 One Gear, said. "We've tried to raise the bar with what we're doing with our products," Ettro said.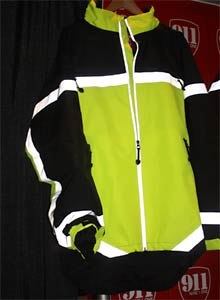 Ettro was on hand demonstrating his new products at FDIC, and at only 32-years-old, seemed to reflect the contemporary philosophies behind the Beaverton, Ore.-based operation. He took over the company in 2008 with the mission of developing and manufacturing "modern, style-conscious, extreme outerwear to the fire, EMS, and rescue communities."
"What separates Nine 1 One is that this is a totally new generation," Jim McIsaac, the public relations manager for Nine 1 One, said. "The sensibilities behind this gear are coming from outdoors sports enthusiasts."
The two jackets that Ettro and his team were proudly displaying at FDIC included the $299 Battalion Chief and the $179 Lieutenant Duty.
The Battalion Chief is the flagship product in the Nine 1 One lineup and indicative of the company's fresh approach. From the protection standpoint, it offers ANSI Class II high-visibility and blood-borne pathogen resistance. It features an AirTech breathable, raglan-sleeved outer with an AirTech P625 laminate inside liner. For durability, it has Dupont Cordura in high-wear areas. All of the zippers on the jacket are bonded with Bemis tape to reduce weight. Ever-Quick dry lining fabric is built in for moisture control.
It comes in standard navy as well as yellow, red, and black.
"The feedback we're getting is that this is perfect. First responders are wearing it because it's very mobile and it's built with a lot of free range motion. They can wear this, stay warm, and not overheat," Ettro said.
The Lieutenant Duty follows the design of the Battalion Chief with a soft shell in a slightly lower grade. It features a polyester-spandex blend fabric for a similar range of motion and fit. It features side-seam vents in nylon tricot, Bemis zippers, and a removable hood attached to the collar. There is also an area by the right pocket to accommodate radios.
Like the Battalion Chief, it's available in black or red, an unusual statement for first responder outerwear. If the traffic at FDIC is any indication, the new jackets are likely to turn a few heads.
For more information on Nine 1 One Gear, visit http://nine1onegear.com.

Request product info from top Fire Apparel companies
Thank You!