SuperFlo SafeT Systems Announces New Bunker Boot Mate
---
Bunker Boot Mate is a noninvasive strap that simply snaps between the two snaps that already exist between the liner and outer shell of most turnout pants. The strap then wraps around your boot at the instep and attaches to the remaining pair of snaps on the other side. The elastic component of Bunker Boot Mates provide the security that you need without restricting you from doing your job. Trust Bunker Boot Mate to help protect your legs and keep your pants comfortably placed over your boots.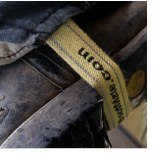 Protect yourself today!
Bunker Boot Mate Features:
NFPA Compliant 1971-2013 standards
Fire resistant
Made of Kevlar, Nomex, and Neo Prene (stretch)
3M reflective woven into the strap
Easy to install
Snaps between liner and shell
Nano- Sphere applied to repel matter from absorbing into strap
Loops around boot at instep
Helps protect legs in the event of a fall through
Helps prevent exposure
Helps prevent distraction
A brief demonstration of how Bunker Boot Mate helps protect you! Find more videos on our Facebook Page! 
About SuperFlo SafeT Systems
SuperFlo SafeT Systems, based in Cincinnati, Ohio is working to revolutionize the fire and safety industry with innovative products and a safety-centered mindset. We are determined to help protect and improve the workplace of fellow firefighters and emergency service professionals. All of our products are made in America. We are confident that our products will greatly improve your workplace satisfaction and personal safety.