PRESS RELEASE
Casio G-Shock adds new vintage gold theme to Master of G
---
Two new vintage gold models offer a classic look under extreme conditions
DOVER, N.J. — Casio G-SHOCK introduces the newest models for its Master of G Series, which feature a vintage-inspired black and gold color scheme. The new GULFMASTER model (GN1000GB-1A) and MUDMASTER model (GG1000GB-1A), offer a stylish, classic look and toughness at an affordable price point. MUDMASTER is a line of watches within the Master of G Series designed for land, sea and air and has earned a strong following for the ability to withstand extreme conditions anywhere on earth.
With inspiration from tools and machinery, the gold accents on both the GN1000GB-1A and GG1000GB-1A are designed to have a weathered look, as if they've endured years of service. The bezel on the GULFMASTER GN1000GB-1A recalls a ship's porthole that's been exposed to wind and rain, while the gold detail on the MUDMASTER GG1000GB-1A takes on the appearance of tools that have been polished by digging in the ground.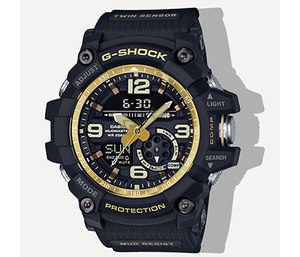 Both models feature Twin Sensor technology that makes them truly unique. The sensors are used to control compass bearing and also to measure temperatures. The new watches are also equipped with a bearing memory that indicates the bearing from a starting point to a destination, enabling wearers to quickly check if they are on course. The thermometer sensor measures temperatures as low as -10°C (14°F) and as high as 60°C (140°F). These readings are easy to view, and the measuring unit is 0.1 C or 0.2°F.
In addition to Shock Resistance, 200-meter Water Resistance, World Time with 31 time zones that include 48 cities + UTC, 1/100th second Stopwatch with split time, elapsed time, measuring modes as well as first and second place timing, Countdown Timer, 5 Daily Alarms, Full Auto Calendar, and Auto LED light (Super Illuminator), the Gulfmaster model also boasts a Moon Graph and Tide Indicator.
The new G-Shock GG-1000 series is designed to be incredibly easy to use, thanks to its large buttons. Those big buttons enable the wearer to quickly access the compass and temperature features built into the GG-1000. This is particularly important when spending time off the beaten track and the needs require a watch that reacts quickly.
The Casio G-SHOCK Master of G Vintage Gold GN1000GB-1A has a case size of 53.4mm and will retail for $300, and the GG1000GB-1A has a case size of 55.3mm and will retail for $320. Both models will be available August 2016 at Macy's, select fashion boutiques, the G-SHOCK NYC Soho store and http://www.gshock.com.
About G-SHOCK
CASIO's shock-resistant G-SHOCK watch is synonymous with toughness, born from the developer Mr. Ibe's dream of 'creating a watch that never breaks'. Over 200 handmade samples were created and tested to destruction until finally in 1983 the first, now iconic G-SHOCK hit the streets of Japan and began to establish itself as 'the toughest watch of all time'. Each watch encompasses the 7 elements; electric shock resistance, gravity resistance, low temperature resistance, vibration resistance, water resistance, shock resistance and toughness. The watch is packed with Casio innovations and technologies to prevent it from suffering direct shock; this includes internal components protected with urethane and suspended timekeeping modules inside the watch structure. Since its launch, G-SHOCK has continued to evolve, continuing to support on Mr. Ibe's mantra "never, never give up".
About Casio America, Inc.
Casio America, Inc., Dover, N.J., is the U.S. subsidiary of Casio Computer Co., Ltd., Tokyo, Japan, one of the world's leading manufacturers of consumer electronics and business equipment solutions. Established in 1957, Casio America, Inc. markets calculators, keyboards, mobile presentation devices, disc title and label printers, watches, cash registers and other consumer electronic products. Casio has strived to realize its corporate creed of "creativity and contribution" through the introduction of innovative and imaginative products. For more information, visit www.casiousa.com.

Request more info from G-Shock
Thank You!