PRESS RELEASE
Globe Manufacturing Honors Washington DC Firefighters Injured on the Job
---
PITTSFIELD, NH — In April 2011, four firefighters were injured when units from the District of Columbia Fire and Emergency Medical Services Department were dispatched to a house fire. That same night representatives from Globe Manufacturing and PBI Performance Products were in town at the CFSI (Congressional Fire Services Institute) dinner.
Exactly one year later, PBI presented the four—Chuck Ryan (FF), Mike Deavers (FF), Ramon Hounshell (FF), Robert Alvarado (Lt)—with the PBI Golden Knights award, which salutes firefighters who, when the alarm sounds, respond.

According to Kevin Fortier, Globe's National Sales Director, "We also wanted to do something to recognize the bravery and dedication of these firefighters, especially since we have a long relationship with the DC-area firefighters. The firefighters in our nation's capital have been wearing Globe turnouts since World War II. So we gave each one of them a special Heritage Coat, replicas of the original firefighter's coat that Globe created 125 years ago."

Just 125 of the Heritage Coats are being made and given out during Globe's year-long celebration of its 125th anniversary. The coats, which have the distinctive hook and D closure, are made of cotton duck with a waterproof liner. Each is numbered and has a Globe commemorative patch on the arm.

"They're not made for firefighting; they're really a collector's item," Fortier continued. "Chuck Ryan, one of the firefighters was especially pleased to receive the coat since he inherited one of the original coats from a relative who was also in the fire service."

For more on Globe Manufacturing's 125th celebration, call 1-800-232-8323 or visit globeturnoutgear.com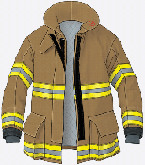 Request more info from Globe Turnout Gear
Thank You!