PRESS RELEASE
True North Wins 2010 North American APEX Award for DragonFur® Fleece Job Shirt
---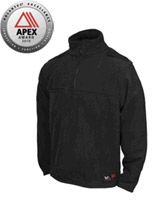 Seattle, WA – True North, the leading manufacturer of fire resistant fleece clothing, was awarded the 2010 North American APEX Award for their DragonFur® Fleece Job Shirt.
Polartec® announced the 12 North American garments chosen for its annual APEX Awards.  This prestigious honor goes to the finest Polartec®-based garments that will be available in 2010. A panel of judges selected the winners based on the style, fit and function of the garments.
The Dragonfur® FR Fleece Job Shirt is the newest addition to True North's FR Fleece product line.  DragonFur® brand clothing ensures that anyone working around fire or electrical hazards can be both comfortable and safe.  DragonFur® FR fleece clothing is rugged, breathable, wicks moisture, and provides protection from workplace hazards. The fabrics are inherently flame resistant so the protection won't ever wash out.
For more information about DragonFur® FR fleece apparel, visit www.dragonfur.com.
About True North, LLC
True North has been a trusted source for quality bags, backpacks and fire resistant clothing for more than 17 years under the True North®, DragonFur® and Drink! ® Hydration Brands. The company's commitment to quality manufacturing and innovation ensures that every product offers unrivaled comfort, function and reliability.  For more information, visit www.truenorthgear.com. 

Request more info from True North Gear
Thank You!