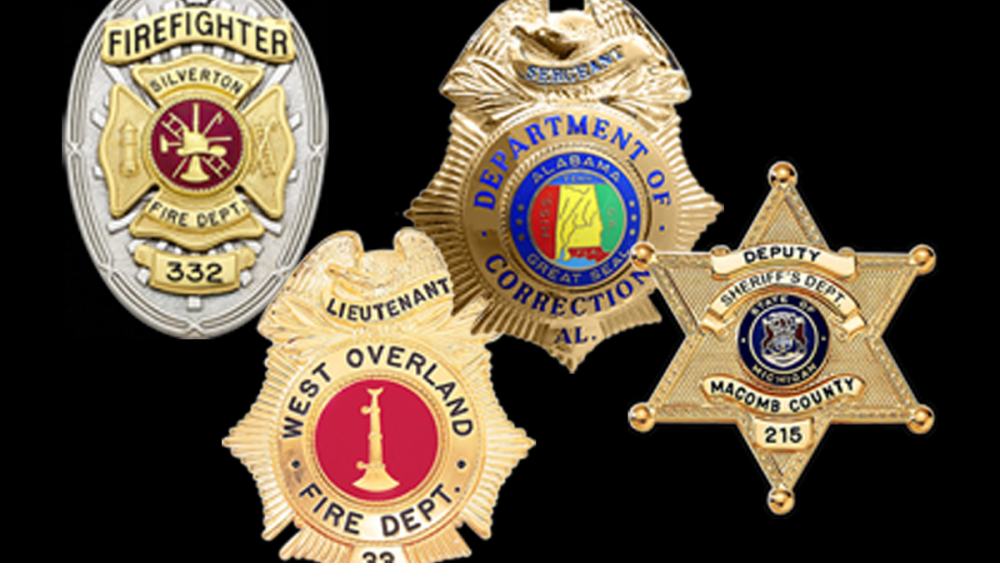 By Robert Avsec for FireRescue1 BrandFocus
Since its founding in 1852, Blackinton, the V. H. Blackinton & Co., Inc., has been a privately held and family-owned company that's well-respected by public safety agencies for its innovative design and manufacturing of badges and uniform insignia. That tradition continues under the guidance and leadership of the Roque family. "My grandfather began working for the company in 1947 after he returned home from World War II where he served as a combat medic," said Andrew Roque, son of current President and CEO, Peter Roque. "Then in 1974, my grandparents mortgaged everything they had and took a big gamble to become majority owner in the hope that it would one day pay off. I think it's safe to say it has."
Andrew Roque is currently the director of engagement and corporate relations at Blackinton. "I started working for the company doing manual data entry from Rolodex cards during summers while in high school," Roque reminisced. "After I turned 18, I was allowed to work jobs out on the factory floor, and I worked all sorts of jobs during summers while I went to college."
All that experience (18 years now and counting) has, by his own admission, made Roque uniquely qualified to offer some inside "scoop" on what's continued to make Blackinton successful after 170 years. "We play to our strengths. Sure, the company has been around for a while but we're not beholden to our past," Roque said. "When I walk around our factory floor I can see a process that's decades old and turn around and see one of our newest processes, say our Unlimited Color badge line. We appreciate our past and continue to build upon that history."
As the company celebrates 170 years of doing business, it is not only the largest manufacturer of public safety badges and uniform insignia in the United States, but it also still calls Attleboro Falls, Massachusetts home. Blackinton is committed to protecting its hometown and the environment. When the company made the move to a new facility in 1982, the building included its own wastewater treatment plant. (One could say Blackinton was "green" before "being green" became cool). That capability continues to work today as Blackinton recycles 100% of its facility's wastewater. Other green endeavors include secure badge destruction for material recycling, and in 2016 they constructed a solar field reducing their consumption from the grid by 50%.
Combining the Old with the New
But don't let Blackinton's longevity fool you. The company continues to combine old world craftsmanship with manufacturing technologies that continue to "raise the bar" in the badgemaking industry. The result is that Blackinton is the market leader in the production of the finest quality products for fire, law enforcement and EMS agencies, not just in the U.S., but in South America and Canada as well. And that would make Blackinton "Badge maker for the Americas!"
And Blackinton didn't get to be the market leader by sticking to what it knows. The company continues to introduce and bring new technologies to the market with innovations such as:
High Security Badges: Two of Blackinton's innovations are the SmartShield with an embedded RFID chip and the SecureShift badge with color shifting enamel. This unique enamel shifts when slightly moved providing visual authentication for a badge helping the law enforcement community fight impersonators and counterfeiters. (Blackinton remains the only badge manufacturer in the world authorized to sell the SecureShift badge).
Commendation Bar Slide Holders are designed to keep commendation bars aligned and neat on uniforms.
FlexBadge: Blackinton created the FlexBadge to give law enforcement a longer lasting, metallic quality alternative to embroidered badges.
QuickShip Badges: What are QuickShip Badges? They are twenty-one of Blackinton's top selling badges that ship within five business days of order receipt at Blackinton, compared to the typical four to five weeks. Even better, if the order does not ship within five business days, it is free. It's the first program of its kind in the industry.
Unlimited Coloring: Now you can add color or a design to your metal badge (e.g., thin blue line) without the added expense of having a new die created.
When asked, "What's one thing that you think has been the biggest factor in Blackinton's continued success?" Roque didn't hesitate before saying, "The uniqueness of our factory. When most people think of a factory, they're thinking this big facility that's mass producing a single product. But in our facility you can see one group working on an order for a couple hundred badges and right next to that is someone working on a custom order of maybe a half dozen badges."
Sharyn Dunn, Blackinton's marketing manager, added, "Another thing is that we have a long history of being first-to-market with a new product, like unlimited coloring and our FlexBadge line."
Colored Badges with a Cause
Circa 2012, several fire departments contacted Blackinton looking for a way their personnel could show their support for breast cancer awareness—especially personnel for whom wearing a pink duty t-shirt was not an option—using the symbol that is close to their heart: Their departmental badge.
No problem! Blackinton became the first company in the industry to develop a pink-finished departmental badge that could be worn by fire, EMS, and law enforcement professionals during October's Breast Cancer Awareness month, during walks or events to promote breast cancer awareness, or as a show of support for a loved one battling the disease. Blackinton's Breast Cancer Awareness line—with a pink finish—quickly became one of the company's top selling badges. Today, the company now offers most of its badge styles in pink.
But to the folks at Blackinton the Beast Cancer Awareness badge is more than just another product line. Since its inception, Blackinton has donated 10% of the sales from its pink badge line to the Gloria Gemma Breast Cancer Foundation (a local charity in the Attleboro Falls, Massachusetts area) and the Firefighters Cancer Support Network, with each organization receiving 5%. Those purchases have helped Blackinton raise $30,000 for those breast cancer research and support charities.
But the colored badge concept didn't stop there. Following the launch of the Breast Cancer Awareness line, Blackinton received requests from fire, EMS, and law enforcement customers who were looking for badges that could be produced with other colors to show their support for other worthwhile causes (e.g., autism, colon cancer, prostate cancer, and special occasions such as St. Patrick's Day).
Being the nimble and customer focused company that it is, Blackinton created a new line, Finished Awareness Badges, with several new badge finishes, such as:
Blue Finish: Created for Autism Awareness Month (April)
Violet Finish: Created for Domestic Violence Awareness Month (October)
Kelly Green Finish: Created for St. Patrick's Day and Emerald Societies (March)
Like the company's pink badges, these finishes are extremely durable.
Demand Sparks Innovation
Because the demand has grown for a more advanced use of color on metal badges, Blackinton developed a proprietary, first of its kind, "unlimited coloring" technology. This new technology enables Blackinton's badge designers to incorporate color on a metal badge without disrupting the detail in the metal. This ground-breaking technology led to Blackinton receiving Innovation Awards from the Network Association of Uniform Manufacturers and Distributors in both 2021 and 2022.
Traditionally, adding color to a metal badge was limited to finishing an entire surface, or adding color within the metal walls of a badge. Previously, adding a thin blue line to a badge design would require the creation of a new die. Now, with its "unlimited coloring" technology, Blackinton can add unique designs to your public safety awareness badges, economically, without the need for a new die.
Blackinton and the Witmer Public Safety Group
Any manufacturer will tell you that one of the critical factors for their success and longevity is the partnerships they've developed with their distributors. One of Blackinton's trusted partners is the Witmer Public Safety Group, Inc.—the parent company for TheFireStore, OfficerStore, theEMSstore, OurDesigns, GideonTactical, and InterstateArms—with whom Blackinton has enjoyed a twenty-plus year working relationship.
According to Dunn, Witmer is one of Blackinton's top and most valued vendors, which has always been one of the first to embrace Blackinton's new technologies and products. "They built their company as being one of the first, if not the first, to bring products to the fire rescue industry all across the country by establishing a top-notch online ordering system," Dunn said. "This flows into our partnership, as Witmer does not shy away from progress or new products – they embrace them – and push their partners to continually improve and enhance their offerings."
With its long history and commitment to innovation, along with its willingness to focus on the needs of its customers and bring new products to those customers, it's no mystery as to why Blackinton has thrived for 170 years. And why it's just as likely that the company will continue to be the industry leader in creating badges and insignia for public safety agencies for another 170 years.