Smart phones get wise: The WISER app
---
By Scott M. Bruner
FireRescue1 Product Editor
As the world of smart phones and PDAs grow, so do the number of applications to take full advantage of their features. Applications for the public safety realm are no exception and many can provide essential information for responders.
One application that can provide absolutely crucial information to the EMT market and hazmat units is WISER, or Wireless Information System for Emergency Responders.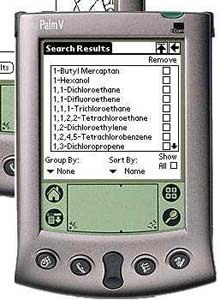 WISER provides indispensable information to first responders when dealing with a situation involving hazardous materials. It was developed by the National Library of Medicine (NLM) database, the world's largest medical library. WISER can quickly provide the user with a comprehensive database of information on hazardous substances, how to identify them, their characteristics, their effect on health, and identifying symptoms from exposure.
WISER was specifically created to provide immediate access to information critical to dealing with dangerous materials.
"Mobility tools with the WISER application serve to shorten critical response time in crisis situations and provide accurate authoritative information," said Lieutenant Chip Haake of the Tuscola, Ill., Fire Department, that has adopted the WISER app. "We have encouraged and implemented use of the Palm solution in order to make sure we're using the latest life-saving technologies for the communities we serve, as well as our own team members."
The database contains information on more than 440 substances in the NLM's Hazardous Substances Databank, including biological and radiological hazards. After identifying a hazardous material, WISER offers guidance on what the appropriate actions to take when dealing with it, including best options for containment. It also includes a searchable electronic version of the Emergency Response Guidebook.
The user interface is purposely simple, designed to present information as quickly, simply, and accurately as possible to a first responder. It's currently available for any Windows device (desktop or PDA) and Palm OS mobile devices. It does not have a direct application for the iPhone or Verizon's new Droid – however, the Web version of the application, WebWISER, can be run through their respective Internet browsers.
WISER, and WebWISER, can be downloaded for free here.

Request product info from top Fire Communications companies
Thank You!