PRESS RELEASE
EMERgency24's Responder Reward Program Donates $1,000 to the Ohio Township Volunteer Fire Department to Honor Five Star Security Systems
---
end picture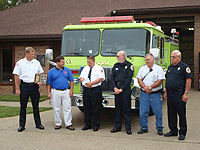 NEWBURGH, IN – EMERgency24, an industry leading central-station alarm monitoring company, donated $1,000 through its Responder Reward program to the Ohio Township Volunteer Fire Department in Indiana on behalf of Five Star Security Systems of Newburgh, Indiana.
The Responder Reward donation was made to acknowledge the important roles emergency responders and alarm-system installers play in keeping our communities safe by protecting lives and minimizing property damage. A perfect example of how the two work together took place in a new home adjacent to Victoria National Golf Club, in Newburgh, Indiana.
Six months after a family moved into their dream home, it could have been lost to a fire had it not been for the robust security system designed by Five Star and the fast response by the Ohio Township Volunteer Fire Department after being dispatched by EMERgency24. The fire started when materials on the kitchen island ignited after the family's cat stepped on a button, turning on burners of the flat-top range.
There were two factors that helped save the curious cat and minimize damage to the million-dollar home. First was the installation of a heat detector in the kitchen when a smoke detector would have satisfied code requirements. The second factor was immediate dispatch by EMERgency24.
"A fire doubles in size every 60 seconds," said Chad Bennett, owner of Five Star Security Systems and Assistant Chief of the Newburgh Volunteer Fire Department. "The heat detector provided an early alarm because that type of device looks only for heat. The fire would have had to burn much longer to set off smoke detectors installed in other areas of the home. At the same time, if the alarm system was not monitored by EMERgency24, the fire would have continued to grow until a neighbor saw smoke billowing out of the eaves. At that point, there would have been much more damage. The overall effectiveness of the alarm system is enhanced many times over with a monitoring service. This is a cost worth paying for."
EMERgency24, headquartered in Chicago since its founding in 1967, is a nation-wide provider of central-station alarm-monitoring services with branches in Detroit, Los Angeles and Washington D.C. The company monitors 165,000 subscribers' accounts.
About the Responder Reward Program
The purpose of the Responder Reward Program is to recognize firefighters who put out blazes and to highlight criminal apprehension when the police respond to EMERgency24 dispatches triggered by monitored alarm systems. "The EMERgency24 Responder Reward Program was developed to thank police officers and firefighters for the invaluable services they provide in communities across America," said Patrick Devereaux, Senior Vice President of EMERgency24. "Police officers and fire fighters responding to alarms is a vital function that makes our communities safer."