PRESS RELEASE
Fact sheet: With vehicle theft on the rise, OnStar's stolen vehicle assistance can help
---
New campaign highlights how onStar can quickly and safely recover stolen vehicles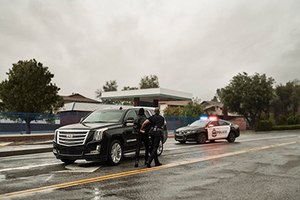 DETROIT —With vehicle theft recently hitting an eight-year high1, OnStar's Stolen Vehicle Assistance2 services can provide members with peace of mind if their vehicle is stolen. Launching today, OnStar builds on its current "Be Safe Out There" campaign and expands its focus to showcase how OnStar can help members in their time of need and work with authorities to help get their vehicles back quickly and safely.
OnStar's Stolen Vehicle Assistance Service: Using the suite of Stolen Vehicle Assistance services, OnStar members with properly equipped vehicles and the public safety community can rely on OnStar to help assist with the quick and safe recovery of stolen vehicles. Additionally, OnStar works closely with the public safety community to educate law enforcement on how the service works and best practices.
OnStar Stolen Vehicle Assistance includes:
Stolen Vehicle Slowdown: After a member has filed a police report and once authorities have confirmed conditions are appropriate, an OnStar Advisor can send a signal to disable the stolen vehicle's engine and gradually slow the vehicle to an idle speed to assist police in recovering the vehicle. This helps avoid dangerous situations by securing the vehicle more quickly, helping to keep our communities safer.
Remote Ignition Block: After a member has filed a police report, OnStar can send a remote signal that blocks the vehicle's engine from being restarted once it's turned off.
Theft Alarm Notification: If a member's vehicle alarm sounds after the doors are locked (must be locked electronically), members can receive a notification by text, email and/or phone call.
Stolen Vehicle Assistance is part of the OnStar Safety & Security plan. OnStar is available on Chevrolet, Buick, GMC and Cadillac vehicles.
Expanding OnStar's Focus on Vehicle Security with a New Campaign:
Today, OnStar is introducing the next iteration of its "Be Safe Out There" campaign, reminding consumers that OnStar can work with authorities to help recover their vehicles quickly and safely.
The multi-channel campaign includes TV, radio, cinema, digital and social advertising. The TV spot, called "Anticlimactic," is a powerful reminder of why OnStar services are critical to helping people stay safer on the road.
OnStar also is bringing back "Real Call" radio advertising, featuring real recordings of OnStar advisors helping members. The ads are voiced by award-winning actress Laura Dern.
OnStar will continue to work with emergency responders, the public safety community and rescue and relief organizations, and give back to communities in the U.S.
Quote:
"U.S. statistics show a vehicle is stolen every 41 seconds in the United States, and 42 percent of those stolen vehicles are never recovered3," said Gerard Connell, director of Sales and Marketing, OnStar. "The need for safety and security is timeless. OnStar can help members recover their vehicle quickly and safely if their vehicle is stolen."
Resources:
New for 2019: 60-second "Anticlimactic" TV spot
New for 2019: 30-second "Anticlimactic" TV spot
60-second "Horn" TV spot
30-second "Horn" TV spot
OnStar Statistics:
Globally, OnStar receives an average of nearly 200,000 calls per day; or more than two calls every second.
Globally, OnStar responds to more than 6,000 Automatic Crash Response notifications a month.
OnStar receives nearly 1,000 stolen vehicle requests every month in North America.
1According to 2017 FBI statistics
2Requires paid plan, working electrical system, cell reception, GPS signal, armed GM factory-installed theft-deterrent system, contact method on file and enrollment to receive alerts. Additional messaging and data rates may apply. Services are intended to assist with vehicle recovery and do not prevent theft or protect against damage or loss. See onstar.com for details and limitations.
3According to NHTSA
About OnStar:
Launched in 1996, OnStar is a wholly owned subsidiary of GM Holdings LLC ("GM") and offers emergency, security and navigation services in Chevrolet, Buick, GMC, Cadillac, Opel and Vauxhall models. OnStar offers a range of standard, subscription and a la carte services such as Automatic Crash Response, Emergency Services and Stolen Vehicle Assistance.
Request more info from GM - OnStar
Thank You!