PRESS RELEASE
IAED chair honored as recipient of NAEMT's 2016 lifetime achievement award
---
SALT LAKE CITY, Utah — The International Academies of Emergency Dispatch® (IAED™) is pleased to announce that Jerry Overton, IAED Board of Accreditation Chair, received the National Association of Emergency Medical Technicians' (NAEMT) 2016 Rocco V. Morando Lifetime Achievement Award for his many contributions to furthering the mission of EMS and emergency dispatch professionals over several decades of service.
The award is sponsored by the National Registry of Emergency Medical Technicians (NREMT) and was presented to Overton Oct. 4 at NAEMT's EMS World Expo general membership meeting in New Orleans, Louisiana, by NAEMT President Conrad "Chuck" Kearns. It is the most prestigious accolade given in the United States to leaders in the EMS industry.
"Jerry has dedicated his professional life to improving EMS systems, from dispatch to the delivery of patient care," Kearns said. "He is an admired leader and EMS ambassador around the world, and an outstanding role model for all EMS professionals. It is an honor and privilege to present the Rocco Morando Award to one so worthy of receiving it."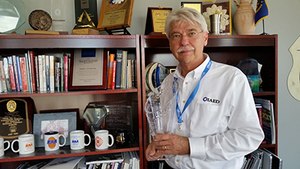 Overton is a member of the Academy's Board of Trustees and chairs its Institutional Review Board. Previously, he served as the Chief Executive Officer, Richmond Ambulance Authority (RAA), Richmond, Virginia, for 18 years. He was named one of the 20 most influential leaders in EMS by JEMS magazine, and has provided his expertise in prehospital, emergency health, and public health care in countries across the globe.
"I'm honored by the recognition, but at the same time, you don't get into EMS and emergency dispatch to get awards," Overton said. "You get involved because you care about people. My philosophy as chief executive at Richmond Ambulance was that we're people taking care of people. With the Academy, my focus is assisting in any way that I can to improve the professions of EMS and emergency dispatch."
The IAED is the world's foremost standard-setting, certification-granting organization for emergency communications with over 62,000 members in 45 countries. More than 3,000 communication centers in 21 languages and dialects employ IAED's protocols and training in medical, fire, police, and emergency nurse triage dispatching. Of those, nearly 200 comm. centers have become Accredited Centers of Excellence (ACEs). Formed in 1975 and more than 50,000 members strong, the NAEMT is the nation's only organization solely dedicated to representing the professional interests of all EMS practitioners, including paramedics, EMTs, emergency medical responders, and other professionals working in prehospital emergency medicine. NAEMT members work in all sectors of EMS, including government service agencies, fire departments, hospital-based ambulance services, private companies, industrial and special operations settings, and in the military.

Request more info from Priority Dispatch
Thank You!