PRESS RELEASE
C4i Keeps Breaking Ground by Continually Developing Valuable New Features for their Command Center System
---
Reston, VA— C4i, an Australian based company with its US headquarters in Reston, VA, unveiled several new features to their SwitchplusIP interoperable radio/telephony dispatch product at the APCO Show in Dallas.
use if there is a picture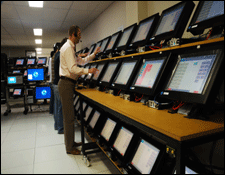 end picture
C4i is constantly in search of new capabilities to stay ahead of customer needs. In addition to their organic integration and true flexibility (both in user interface and in scalability), their ability to operate with multiple vendors' radio system helps them meet their goal as the most capable dispatch solution available.
Among the new features are a searchable phonebook, the ability to quickly select a preset group of radios for transmit, and the ability to create pre-recorded broadcast message announcements that can be distributed via any radio channel or telephone at the push of a button.
"The messages could be about a weather hazard in a particular area that could be pushed out repeatedly to first responders or emergency crews," said Brad Kay, C4i's president.
Aside from the public safety arena, these messages can also be used in the ports and shipping arena, to alert ships at sea of high winds or a malfunctioning lighthouse. The dispatcher can change the messages at any time and they can be set up to run permanently or on a one-time basis.
Another feature, designed specifically for firefighters, is the new Alarmon emergency response coordination system.
"Alarmon integrates incident management, radio communications, and fire-alarm monitoring," Kay said. "When a 911 call comes into the desk, everything about that incident now is on their screen... The whole objective is to minimize response time, so having everything integrated into one system really does that well."   
Other features of Alarmon include automated procedure activation; ability to select and assign duty personnel and vehicles; and facility management (e.g. control and monitoring of devices such as crash alarms, booster pumps, lights, doors and HVAC systems.).    Alarmon also integrates maps and building plans and video cameras.  Rescue and Fire Fighting units at over 20 major airports are currently using the Alarmon system.
Additionally, SwitchplusIP enables each individual to have a customized interface that displays only the features applicable to his/her individual job function, therefore maximizing job efficiency and minimizing the potential for errors.
C4i has recently developed a "Lunch and Learn" program; they are so confident in their product that they are willing to visit any agency dispatch center (either virally or in person) to demonstrate the unmatched dispatch communications system capabilities of their SwitchplusIP and will buy lunch for each center that participates (some restrictions apply). For more details about C4i and their "Lunch and Learn Program", please visit www.C4i.com/lunch