Why UX matters in public safety
Your software shouldn't become an unnecessary distraction
---
Content provided by CentralSquare Technologies via GovThink.com
Distracted driving kills approximately 9 people and injures 1,000 more every day, according to the Centers for Disease Control and Prevention. Technology is the most common distraction in the driver's seat – texting, making phone calls and using a navigation system all require the driver to take focus away from the road long enough to be potentially harmful.
This is a problem among more than just the general public. Law enforcement officers and other public safety personnel frequently use smartphones, tablets and laptops while in their vehicles as well. If first responders are relying on hard-to-use digital applications and software, the experience of using technology doesn't just get more complicated for them; it can cost lives. Federal agencies have reported that over 600 firefighters and law enforcement officers died as a result of vehicle crashes since 2000. While there are multiple causes of these fatalities, such as inclement weather and other drivers, preventing distractions and making it easier for first responders to interact with their in-vehicle computers can dramatically increase their safety.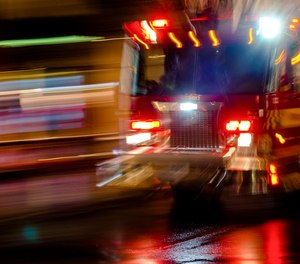 This problem helps illustrate why first responders deserve powerful, intuitive software that is as easy to use as the user-centered consumer experiences often found on smart phones and tablets. Solving it requires that technology vendors develop solutions that are fast, seamless and most importantly, focus on the needs of first responders. The usability should extend far beyond simply "looking good" so that the user experience, or UX, forms the core of how a first responder understands, reacts and responds to complex and rapidly evolving events.
Laying the foundation for better Mobile UX
Law enforcement officers, firefighters and EMS personnel typically use their software in situations that are far from the calm, quiet environment of an office; they use software in their vehicles while responding to emergency calls, at crime scenes and in hurried moments between calls for service. Software teams should keep that urgency in mind when designing and building applications for use by the public safety community. One way to succeed in this effort is for designers and developers to spend time in the field with first responders watching how they work, learning their pain points and brainstorming solutions with them to more effectively design software that officers utilize in their vehicles. In the best cases, designers should frequently spend time with firefighters and officers in the field across multiple agencies to get a thorough understanding of their needs.
Benefits of better Mobile UX
With an enhanced mobile UX, first responders receive the following benefits:
Responders get necessary information in a quick glance from clean, glanceable screen designs so their focus stays on the road.
Even before arriving on scene, first responders gain in-depth situational awareness from more intuitive visual cues for hazards, warnings, dispatcher comments, premise history, unread comments and key safety information.
First responders receive information in less than half the time with far fewer clicks as a result of faster workflows.
From design concept to reality
The distraction factor of in-vehicle technology likely will not be resolved overnight, but a better, more intuitively designed user experience has the potential to significantly reduce distractions, leading to potentially fewer vehicular accidents. In fact, the technology is already a reality, thanks to the efforts of some of the top technology vendors in the industry.  Mobile Enterprise, the solution offered by CentralSquare, is setting the standard for best-in-class user experience.
When responding to an incident, multiple demands are often placed on an emergency responder's attention. To support their need to focus on the situation at hand, it's critical that the software they use doesn't become an unnecessary distraction due to cumbersome workflows or slow communication systems. Intuitive tools can ensure first responders are well-prepared to provide life-saving help while staying safe in the process.

Request information from CentralSquare Technologies
Thank You!