PRESS RELEASE
Fotokite launches new vehicle Rooftop system for responders in partnership with Pierce Manufacturing
---
ZURICH — Fotokite announced today the release of their new Rooftop product configuration, providing firefighters and public safety teams with immediate aerial situational awareness at the push of a button.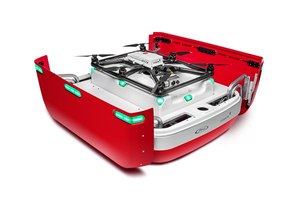 The Rooftop configuration is built directly into the roof or roof rack of SUV and heavy public safety vehicles, allowing rapid and effortless deployment of thermal and low light video streaming during the first critical seconds of a response. This configuration provides unprecedented size-up capabilities with a bird's-eye view of incident scenes within 10 seconds of arriving on scene.
To make this safety-critical tool accessible to public safety teams, the FAA has authorized this system to be used by any firefighter or first responder team without the need for any piloting license or flight authorizations (e.g. Pt. 107 or COA). Such a system gives teams actionable information throughout their everyday missions and unlocks the ability to capture full incident response records without interruption.
The Rooftop is the newest configuration in the Situational Awareness System product line (which includes a rugged mobile case and tray-mount versions) and provides any first responder team with a vehicle-integrated aerial camera system, directly available from their vehicle rooftop without the need for piloting.
Fotokite Sigma and its configurations are authorized by aviation authorities for public safety team operations, no pilot license required. Some of the system capabilities include:
Safety first, no active piloting necessary
Fully autonomous flight means you never need a pilot, piloting or pilot training
Ruggedized IP55 System suitable for use in rain, snow and windy conditions
24 hours of continuous situational awareness, accessible with the single press of a button
For marketing or sales related queries, please reach out to sales@fotokite.com or your local Pierce Dealership to set up a demonstration or provide a quote.
About Fotokite
Founded in 2014, Fotokite designs and builds fully autonomous, persistent and reliable combined hardware and software systems that provide invaluable overview information to firefighters and first responders to help manage complex, safety-critical situations. Fotokite has offices in Zurich, CH, Syracuse, N.Y., and Boulder, C.O. Fotokite is the winner of the GENIUS NY 2018 1st Prize, 2015 Qualcomm QPrize Europe, and has been featured on the TED stage. Fotokite is backed by Credit Suisse Entrepreneur Capital, Sony Corporation, Qualcomm Ventures, and 360 Capital Partners. Fotokite's core technology was born at the Flying Machine Arena and spun off from ETH Zurich in 2014. Learn more at fotokite.com.