How Chesterfield Fire Department solved its training challenges
Read how a Va. combo department overcame initial personnel resistance to achieve efficiency and safety improvements that have been "nothing short of remarkable"
---
The following is paid content sponsored by TargetSolutions
For years, the challenge of tracking firefighter certifications, and continuing education management as a whole, has been made difficult by the limitations inherent in non-centralized solutions. Recently, however, significant advances in technology have streamlined this process drastically, especially when it comes to ISO training requirements. Today, we'll take a moment to look at how one department with complex needs was able to take advantage of these advances through the TargetSolutions product suite, and streamline its reporting, education needs, records maintenance, and more.
Background:
The Chesterfield Fire and EMS Department, located in Virginia, is a combo department comprised of 487 career staff (including 207 ALS Providers) and 300 volunteer Fire and Rescue personnel, all of whom are, at a minimum, certified as EMT-Basics. Serving an area of 426-square miles, and a population of more than 323,000 citizens, the agency provides not only standard fire and EMS services, but also staffs advanced capabilities for the county such as a Technical Rescue team, a HazMat team, a Type 3 IMT, and a Dive/Water Rescue team, along with providing the paramedic staff for the Virginia State Police's medevac helicopter program.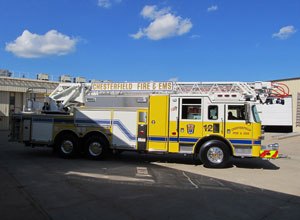 Challenge:
Faced with a growing demand for service, and a growing organization, Chesterfield began to see difficulties with finding both the time and means to not only provide education to its varied personnel base, but also to keep track of a wide variety of certifications — critical to maintaining ISO certifications and preparing for the reviews that allowed the agency to maintain its multiple ISO ratings. Brick-and-mortar training, long the standard in public safety, required vehicles and crews to be taken out of service, which simply became unacceptable as the area's population grew 21 percent over a 10-year period ending in 2010 and exhibited increased demand for emergency services.
Additionally, the department's existing records management solution was fragmented, with no central source for up-to-date information on personnel's certifications and documentation. Especially as a full-ALS agency on the career side (with one paramedic per apparatus piece), this presented a daunting challenge when it came to ensuring certifications were where they needed to be, not only for accountability purposes, but also for human resources management and certification audits for ISO and other standards agencies. Looking at this, Chief Edward L. Senter, Jr. realized that it was time to look for a better solution.
Solution:
Battalion Chief Chris Basdikis, in charge of the Training Division of the agency, was tasked to examine the available solutions on the market to find one that had the muscle and reliability to handle Chesterfield's broadly diverse set of needs and personnel specialties. 
Several different platforms were piloted within the agency over a period of months, and as the systems were put through their paces, the platform from TargetSolutions, Inc. was selected. 
"It was the product suite which best suited our organization's needs to have both a Records Management System and a Learning Management System," says Basdikis, allowing seamless integration between the delivery of training and the tracking of, and therefore accountability for, that delivery. 
Additionally, the system offered the flexibility to allow Chesterfield to custom-build modules with relative ease, important for several reasons: first, it allowed the agency to build in tracking for state and federal requirements, such as OSHA requirements especially important for its specialty teams. Second, since the agency recovers revenue through billing for EMS service, it provided the capability to prove conclusively that providers were up-to-date with certifications — especially difficult with volunteer personnel who may only do a few shifts each month. Finally, the system was configured to send out reminders on an automated basis to those personnel whose certifications are expiring in the near future.
Results:
The TargetSolutions system was implemented in phases with some funding from Federal grants, over a period of three years. This allowed Chesterfield to build the infrastructure of the system out gradually, and roll out different features in stages, beginning with ALS continuing education and tracking of contact hours (including sessions attended). The department was then able to monitor all aspects of its program when it came to education and certification, along with additional functionality including a communications hub to deliver important information such as medical protocol updates.
As might have been expected in any public safety agency, there was some initial resistance from personnel, mainly attributable to our natural suspicion of change. Thanks to a short learning curve, and a user-friendly interface, Chief Basdikis says that was quickly put aside, and the system is now globally well-received and utilized.
For the agency, the changes in efficiency have been nothing short of remarkable in several areas. First, the system allows the department to pre-load didactic education materials (such as handouts, etc.) before personnel arrive at one of the agency's dedicated training centers, maximizing the actual contact time that those personnel have in terms of educational hours since the personnel can download and/or view and print those materials ahead of time. 
Second, the ISO review process has become much easier, especially in terms of tracking target hazards within the community and ensuring that personnel are addressing them and planning as-required — the system provides the company with a 60-day warning that reassessment and site visit of any such area is coming due. Additionally, since the TargetSolutions system can be accessed anywhere by computer, the ISO and internal in-station training requirements can be achieved and tracked automatically.
Finally, the system has also allowed them to consistently deliver high-quality, timely training to personnel of all ranks and specialties, tailored to those ranks and specialties. With so many different hats worn, from the volunteer rescue squad member, to the Hazmat response team member, to the flight paramedic in the air with the State Police, this was previously a daunting, time-consuming process. By tracking that educational contact, Chesterfield is now in a responsible position and is leading efforts to ensure personnel are prepared for when the unthinkable happens to a citizen and they pick up the phone to call for help.
Free Trial Now Available!
Are you interested in test driving the industry's leading online training and records management system? If so, TargetSolutions is offering a free trial to FireRescue1's readers.
If you would like more information about how TargetSolutions can help your department, please click here.