TargetSolutions' ISO training tracker delivers easy compliance and records management
The tracker allows training to be assigned to each member individually depending upon their qualifications and rank
---
The following is paid content sponsored by TargetSolutions
One of the most challenging times for training and administrative fire personnel is the Insurance Services Office (ISO) review. Most agencies have for years relied upon a decentralized recordkeeping methods, or at best stacks of paper in a filing cabinet, both of which require a significant investment in time and effort when it comes to submitting records to the ISO field representative. 
Fortunately, there is now a powerful new tool available for managing ISO training compliance and records management, one that allows not only the tracking of all necessary records with built-in reports that are compliant with ISO requirements, but also the easy delivery of pre-made, ISO-compliant training to personnel: TargetSolutions' ISO solution.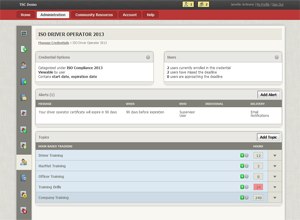 The Solution
The solution itself is elegant, simple, and easy-to-use. As part of TargetSolutions' Learning and Records Management System, the ISO Training Tracker allows training to be assigned to each member of an agency individually, with the capability to assign certain classes of training to groups of personnel depending upon their qualifications and rank. The ISO Tracker comes with a set of activities that were created expressly for the needs of ISO-required training sessions — and informally vetted by local ISO field representatives to ensure compliance.
Using the system
The process of using the system is simple: let's say you have an ISO training activity involving a number of personnel. In the past, that meant having a sign-in sheet on paper, or similar manual tracking system.  With TargetSolutions, however, the designated training officer (or company supervisor) simply verifies personnel who were previously assigned to the activity, and notified through the system, were in fact in attendance. 
From there, the system makes a record in the individual's file within the database, which can be pulled as part of an automated report, or viewed individually if needed. Additionally, the system is "smart" in terms of ISO eligibility for training — for example, if an offsite training is attended, which counts 50 percent as much as an onsite event, the system will automatically track and tabulate within an individual's training records.
Pulling the reports
When it comes time for a review, the built-in, ISO-compliant reporting system makes pulling required reports as easy as a few clicks of the mouse. Need a custom report? Create it once and the system will save the report as a template, ready to revisit in subsequent years as needed.  Want to pull a report as an Excel file to conduct your own analysis? It's also just a few clicks away. Want to notify a department member that a certification expiration is coming up, or a company that an ISO Target Hazard needs to be revisited? TargetSolutions' ISO Training Tracker will do that automatically.
With a wide adoption already nationwide among TargetSolutions' clients, the ISO solution is well-tested and vetted in real-world conditions by departments of widely varying sizes and compositions. A product specialist will help your agency to implement this solution, and there is a demonstration version available to explore if interested, prior to any commitment. 
With ISO changes just around the corner, TargetSolutions has committed to updating its products to reflect the most current standards as they become available. For more information on the ISO Training Tracker, please contact TargetSolutions at (800) 840-8046 to learn how your agency can stay ahead of the curve by reducing the number of staff hours needed in order to keep your department at the ISO rating it has worked so hard to attain.
Free Trial Now Available!
Are you interested in test driving the industry's leading online training and records management system? If so, TargetSolutions is offering a free trial to FireRescue1's readers.
If you would like more information about how TargetSolutions can help your department, please click here.