Lighting up the scene: New solutions in emergency scene illumination
Emergency scene lighting is undergoing a rapid transition from halogen to LED lighting solutions
---
Perhaps no other single piece of equipment carried on fire department apparatus can have as much positive impact on scene safety as portable lighting equipment. What you can't see can hurt you!
"I think LED lights have transplanted every other lighting type. People are simply not interested in anything but LEDs," said Joan Rodman, communications and marketing director for Ventry Solutions. "We've discounted all of our halogen lights and people still don't want them. Even though halogen lamps are still a great light, especially for departments on a tight budget, we still can't sell them."
Why the shift in customer desires? According to Rodman, it's all about the quality of the lighting. "Halogen lamps are very good lamps, but when you put one up against an LED, there's no comparison," she went on to say, "LED lamps are as close to actual sunlight as you can get today."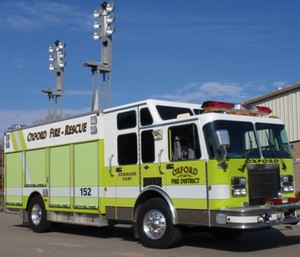 The manufacturers of on-scene lighting equipment have made vast improvements in their products in recent years. But before delving in, let's make sure we're speaking the same language on a couple of points regarding lighting.
What is scene lighting?
If illumination for the incident scene is your objective, you're looking to purchase scene lighting equipment and not task lighting equipment. What's the difference?
Scene lighting equipment does as the name suggests: it illuminates a large geographical area (e.g., the entire scene of a motor vehicle crash with patient extrication in progress).
Task lighting equipment is equally descriptive as it focuses on illumination of a specific task or job being done (e.g., interior overhaul operations in a room gutted by fire).
How to tell the difference without lighting up each type? For starters, any light with an output of less than 10K lumens is a task light. A light's lumen output is the key to how large an area it can illuminate. A task light should reasonably illuminate an area, typically less than about 200 square feet, occupied by one person performing a stationary task [1].
Another way to differentiate between the two is to look closely at the photographs used in advertising media and ask these questions [1]:
Is only one person illuminated?
Is the area behind the product itself lit up (showing that additional lights were needed to light the scene)?
Is there more than one of the lights in the action shot?
If the answer to any of these questions is yes, then those photos are showing a task light, not a scene light.
In contrast, a true scene light should illuminate up a large area, an entire scene or site. Note this doesn't mean task lighting isn't important, because it is. There are many situations on the emergency scene (like overhauling that fire room) where good task lighting is important.
Watts don't equal illumination output
In Rodman's view, the emergence of LED lamps has dramatically altered the amount of power required for the desired illumination output (lumens). "LEDs are starting to change the way people talk about lighting," Rodman said. "Every once in a while, I will still get someone who calls and asks for a light by its wattage. They'll say they need a light of at least 500 watts. But when you're talking lighting, what you don't need is wattage, you need output."
Not only are these new bulbs and lamps more efficient in their use of electricity, they are also many times brighter than earlier model lamps drawing much more power (watts) [2]. According to Rodman, it's lumens that count and with LEDs, there are more lumens produced with far less wattage. "The number of lumens that an LED can deliver with 240 watts or 336 watts far exceeds what a halogen lamp can deliver with either 750 watts or 1500 watts," said Rodman.
As with most things, it's the output that matters, not the amount of inputs. So, when looking for the best illumination equipment (both scene lighting and task lighting) focus on the equipment's lumen output, not how many watts it uses.
What's new in scene illumination equipment
Ventry Solution's 2-in-1 Portable LED, 2000W lighting system uses a 28,000-lumen V-Spec LED head. The 2-in-1 system gives fire departments a choice between two different pole heights, without needing to invest in a second LED light head. This model has a run-time of more than 8 hours; comes with a larger generator (2,000 watts instead of the Ventry's standard 1000 watts); and its light is instant, low-heat and requires only 336 watts of power to generate 28,0000 lumens of light capable of illuminating a large area.
FoxFury's Nomad Transformer Scene Light is a self-contained unit capable of delivering 14,000 lumens of scene illumination. The rechargeable Transformer can operate as a spotlight, flood light or 360-degree scene light with a run time of up to 24 hours.
The Revel Scout Scene Light delivers 14,000 lumens in a 12-pound package. The Scout provides several mounting options, is powered by a removable and rechargeable battery, and can provide either a spot or flood light pattern as needed for exterior scene or interior applications.
The Knight Series of LED scene illumination lights from Command Light are mid-size units with a reach of roughly 7 ½-feet from their base. The Knight Series units are manufactured using aircraft-grade aluminum for strength and reduced weight. Their completely electric operation (no air or hydraulics required) allows for rapid deployment and gives responders the capability of continuous 360-degree rotation.
What's new in task illumination equipment
The WAL-18 LED-BP LED light tower from Larson Electronics is a self-contained and portable rechargeable unit that produces a wide flood of light ideal for use on emergency scenes. The unit produces 1368 lumens that can illuminate over 40 square feet and can run for up to 14 hours at full power on a single full charge. This LED light tower includes two 9-watt LED lights mounted to a telescoping aluminum mast that can be adjusted from 3 to 8 feet in total height.
The Pelican 9470 Remote Area Lighting System is engineered with an intelligent control system which calculates and displays current battery life, allows the user to regulate the intensity of the light and choose the desired run time. For large area illumination, the 9470 contains four heads that will illuminate 360 degrees using solid-state mounted LEDs coupled with a thermally efficient light engine. Total lumen output for the 9470 is 1,000 lumen (low setting) and 12,000 (high setting).
The Nomad T56, the newest illumination product from FoxFury, is a LED task light that is cordless, battery powered and delivers up to 8,200 lumens. The Nomad T56 LED is a self-contained unit that can provide up to 24 hours of quality lighting.
Streamlight's Scene Light Portable 45670 provides 5,300 lumens from a 6 ½-inch lamp to illuminate any task area, along with a narrow footprint that enables the user to go almost anywhere. The 45670 comes in a very small package (22 x 6.5 x 11 inches), has its own stabilization legs and a 72-inch extension pole (with the power cord built into the pole to avoid wire snags).
References
1. Ventry Solutions. What is the difference between a scene light and work light? Available at: https://ventry.com/blogs/faqs/what-is-the-difference-between-a-scene-light-and-work-light
2. Ventry Solutions. Don't judge a light by its wattage! Available at: https://ventry.com/blogs/faqs/light-watts-not-accurate-measure-of-brightness